Hi Everyone!
I've just been answering a stack of emails about custom videos. What makes a script a "great" custom for us, and what makes it a "groan"? If you give us a perfect script, we can give you a perfect custom video!
A great custom script is clear about the details which are important to the concept of the film, without going into paralysing detail.
Too Much
An actual screenplay, with stage directions and scripted dialogue is usually too much.
Models aren't actresses, they don't budget time for each production to learn lines. Many don't really have the skill of learning lines (they are models, after all, not actresses). If you want word-perfect dialogue, you need to budget for time for the performers to learn the script by heart.
Furthermore, unless you're a professional writer, scripted dialogue rarely sounds as natural as letting the performers ad lib around a guideline.
So…

INT CAFE, DAY.
The cafe is busy, with tables laid with white tablecloths and silver cutlery, with Swiss cut glass crystal glasses on every table. 
ARIEL enters, wearing a boho sweater and boots and carrying a red leather book and a 
long thin case.
ZOE is already seated, waiting for her. She's half-way through a plate of fettucini with grated truffle. A WAITER brings them drinks.

      ARIEL
Well I must say you are looking very beautiful this morning if I may so say so Mistress Zoe, very beautiful indeed.

     ZOE
Thank you! And I cannot wait to see what your diary says we will be doing today. And
which implements are coming out of the corporal punishment case you have with you.

…is absolutely overkill. Note the extraneous detail (Swiss cut glass crystal glasses, fettucini with grated truffle). In a Hollywood script, this is standard scene setting level of detail. For us, you're giving us a problem. Do we need to source Swiss cut glass crystal? Are you going to pay for it? What if we can't get truffle, or we don't have fettucini in the house?
Setting all of that up would probably take an hour or more on shoot day, and several hours of pre-production time. Is it critical to the vision for the custom video? Would we be OK to just have our posh glasses on the table, and whatever food we can easily source from last night's dinner on the plate?
We end up wasting ages on set worrying over what details we are OK to change, or doing our best to slavishly follow directions which the customer doesn't actually care about.
Just Right, Goldilocks Zone
Focus on the details which matter. Leave the rest as vague as can be so we can fit it in around the resources we have available. But suggest as much as you can, and let us know the intent. If there are details which are vital, spell them out. In this scene, let's say the important things are that Ariel has to bring the punishment book and CP implements with her to meet Zoe.

Ariel and Zoe meet for coffee. As usual, Ariel has to bring the case of CP implements and 
the punishment book with her so Zoe can go through the week's events with her and decide
punishment. Having to do this sort-of in public is humiliating for Ariel, and Zoe does her 
best to embarrass her.
That hits the sweet spot. It's nicely non-specific about the details of the place they meet for coffee, but says it is semi-public. Great, got it, we can set that up in a few minutes and tell the story very effectively.
We'd ask for some guidance on what the girls are wearing- a paragraph like this covers it for the whole film, rather than detailed descriptions scene-by-scene:

Ariel is a repressed and hardworking career girl. In public she always wears a white blouse, 
pencil skirt and glasses. 
In private, Mistress Zoe always makes her strip naked.

Zoe is a free spirit, even though she is a domme. She wears loose boho-style outfits like a
loose sweater and beaded skirt, but with a corset over the top.
Again- just right! It even suggests some shots and mini-scenes (like Zoe forcing Ariel to strip) which we will probably be inspired to shoot to improve the film, even if you don't specifically mention that. Would you like a bonus couple of minutes humiliation and enforced stripping, for free, with your custom video? Most likely yes!
When to spell it out
If there's something complex to describe like a bondage position, a picture is worth a thousand words. But do emphasise anything which you really like to see (e.g. neat ropework at the back).
If your fetish is for exactly the right sort of black satin blouse and a candle-lit dinner, with tight white rope over the blouse in a box-tie chest harness, please do be as specific as you can. Diagrams! Photos! Cut out any extraneous details (a candle-lit dinner we can do, but leave the rest of the staging to us). And be physically realistic- if you want an elbows-together tie for a film with a 30 minute run-time, be aware that we'll likely need to shoot that in several different takes, untying the model and retying her each time.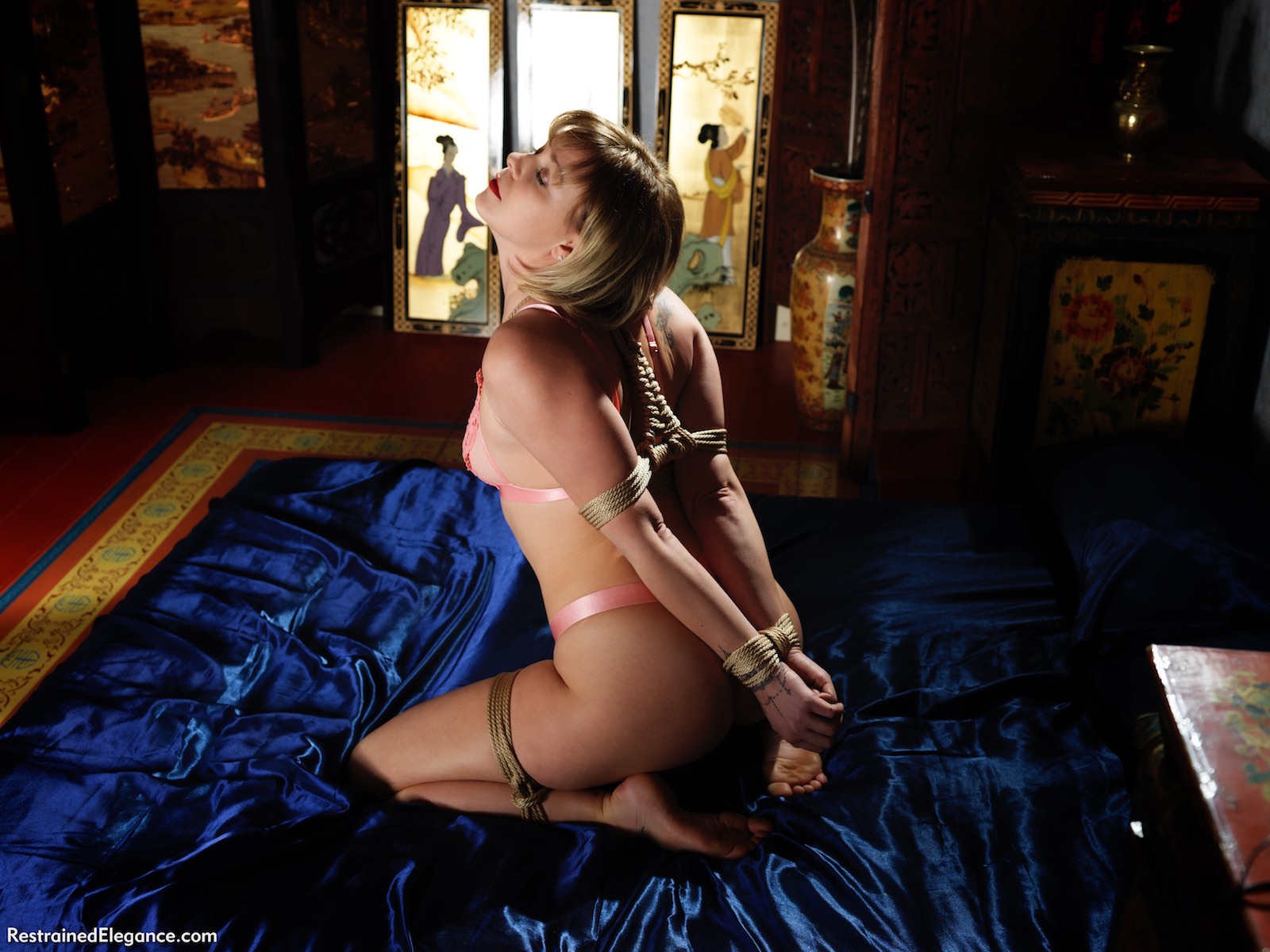 Too Little
At the other end of the spectrum are scripts like this.
I want a 30 minute video of Ariel being caned with different implements by Mistress 
Zoe. At the start she humiliates her in a cafe. Then she beats her hard for 30 minutes 
with hard strokes.

Here we've got nothing to get our teeth into, no detail to guide us. We can guess that the customer imagines lots of CP, given the emphasis on hard strokes, and there's humiliation in there which gives us a bit of a hint. But why? Who are the characters? What's the story? How do they feel about it?
Ironically, it is the scripts like this which most often result in customers a bit disappointed that we didn't get it right- they may even complain that we didn't tie Ariel up or gag her for the beating. Well, if the script didn't even MENTION it, we have no way of knowing that there was bondage in your head when you commissioned the video.
The "30 minutes of hard beating in a 30 minute video" even though there's a set-up mentioned is also a warning flag of a customer expecting video filmed by the yard, and in my experience they are the most likely to go off on a rant about stuff they've not told you about not being magically right. It doesn't happen often, but often enough that I'm starting to recognise the signs.
Be aware that a story takes as long to tell on screen as it takes- sometimes it ends up shorter than expected. More often, it ends up longer because we like to underpromise and overdeliver, but we won't really know until we edit the film together.
Inspire Us
If you've given us an inspiring script with lots of evocative story and opportunity for the models to improvise, visual details we can focus on like how the bondage should be, emotional details we can show like how the characters feel about being humiliated in public, you'll very likely find we end up making you a 25 minute video when we budgeted for 10. And you know what? It'll be a better film, we'll have had a blast filming it, and it probably won't have taken any longer for us to shoot than a tricky 10 minute film would have.
We'll even go the extra mile for you like filming pick-up and establishing shots in our own time to enhance the storytelling if the film is really fun. Everyone wins!
I've probably made it sound scary as hell and like an exam now. Sorry. Just bear in mind:
Be careful to distinguish between set dressing you don't care about, and fetish details you do. This is the most important point.
Leave the set dressing to us. A few words of general description "posh/elegant/expensive" are enough.
If you really care about a detail, spell it out. Send pictures of bondage, or buy the item.
For specific clothes, you sourcing them and send them to us is sooooo helpful!
A brief description of the characters- what they are like, what they wear, who they are.
Have the characters react to things in the story, give emotion hints to guide the models.
For dialogue, let us improvise the exact words, just give us the gist.
Whats really important to you? Face? Feet? Boobs? Tight ropes? Where should the camera linger longest?
Even fetish films are better with a beginning, a middle and an end. We can establish a character and back story in 30 seconds if you guide us, and we love it best when we can!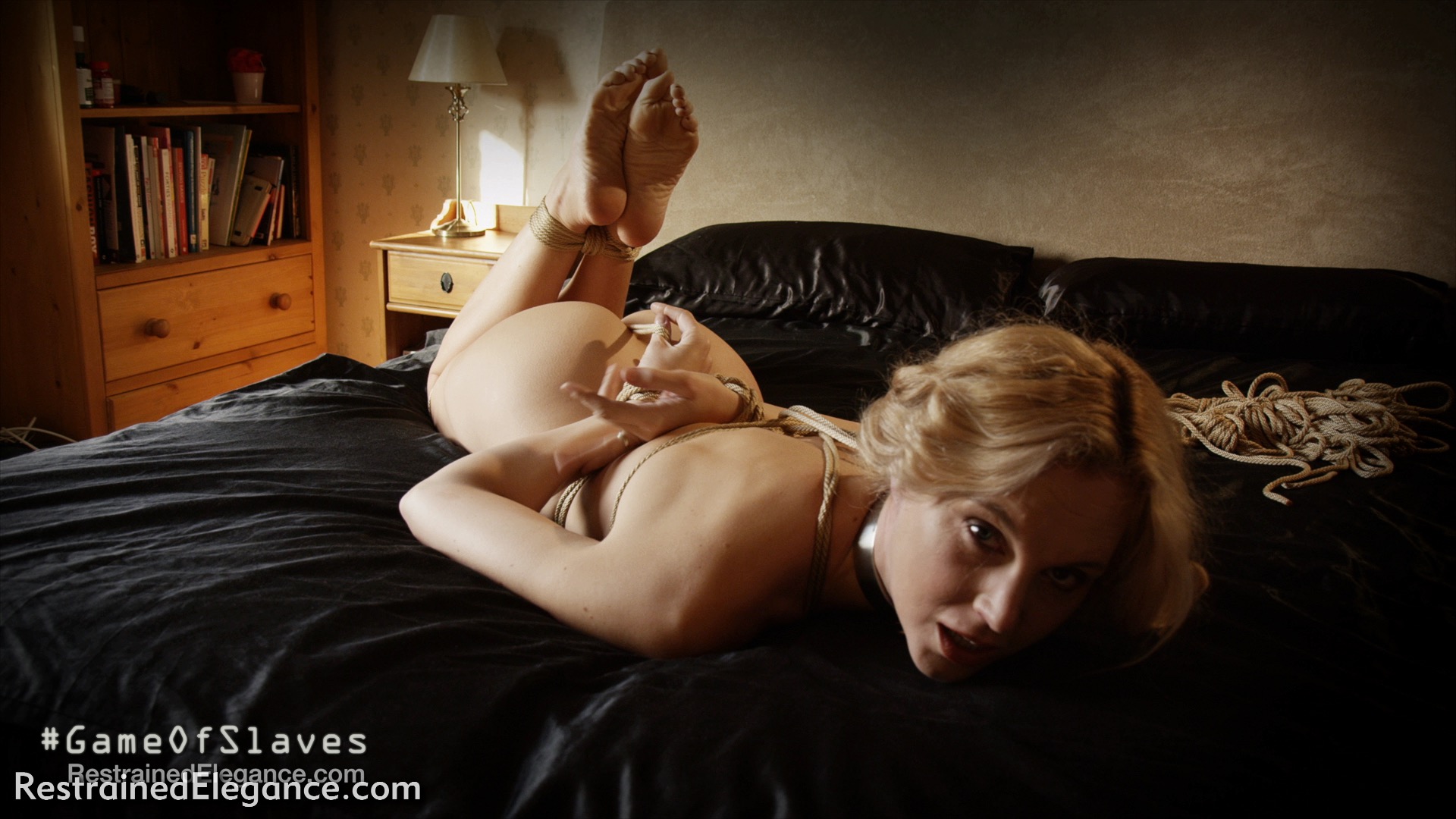 Cinematic vs. One Rolling Take Shooting
By the way, I shoot customs in the RestrainedElegance.som/EleganceStudios.com cinematic style. That's as much like a Hollywood movie or a BBC costume drama as it is possible for me to do on a budget of hundreds instead of millions of pounds.
I know I'm unusual in the fetish world for shooting this way. We ran a video tutorial for @FoToRo a few years ago and at the end he said it had been very interesting, but he couldn't possibly shoot that way- it was way too slow and therefore far too costly for his business model.
He's completely right. The way Ariel shoots simple custom videos is to read the script, remember what she has to do, point a very wide angle lensed camera at herself, hit record, and stop once she's reached a bit over the allocated run time (to make sure she doesn't short-change the customer).
When she can't do everything herself (e.g. when she needs to be tied up) she'll hire me or another model or a friend to rig, and for really complicated stuff she'll hire a camera operator as well, whose job is to make sure that the action is visible- so if the rigger is blocking the view of the model, move the camera. Possibly call cut, but not if it can be avoided, because that requires less time when she comes to edit the video.
This is by far the most sensible way of shooting, and it results in the "website video one rolling take" look which you're probably very familiar with, although you've probably never thought of it as a definite stylistic choice. It still takes a lot longer to shoot and edit the film than the run time would suggest- there's usually at LOAD of time in pre-production to source the location, the clothes, the people, etc. not to mention all the emails back and forth with the customer to get all of this right beforehand. Then there's editing, maybe a bit of colour grading, uploading, and finally the video is done.
Would that I were business-minded and sensible enough to be able to shoot in that style the way I once did. But I'm not. I am cursed with having learned more of the grammar of movies than that because I was fascinated by it, and now I can't go back to one rolling take filming as anything other than an unusual stylistic choice. My default setting is lots of shorter shots, each trying to tell you something new as the story progresses. I'd love to put motivated moving camera work into more films, too, although I've been struggling for years to figure out how to do that sensibly.
This is a slower, more deliberate way of shooting. It take longer- we often spend three minutes setting up a shot (moving camera, changing lenses etc.) and then the shot contributes a few seconds to the final run-time of the film. A five minute clip can easily take over an hour to shoot, and a 30 minute clip takes all day. This is why the customs shot in the RE style are more expensive to produce than Ariel's rolling-take ones.
It also means I can spend a lot longer on each custom, which makes it even more important to get an evocative, interesting script to work with. This is why I sometimes turn down customs, especially "too short, shot by the yard, 30 minutes of a tight hogtie and not a second less" scripts. I may end up investing days or weeks of creative time on your film, and I want to enjoy it. I also want to be able to sell it to other customers afterwards, like the delightful Pony Girl series (which are some of the best customs I think we've ever been lucky enough to make: just enough details and novel ideas to inspire and evoke storyboards, enough freedom to get creative with it and really enjoy). Bliss.
Hywel