This page is for producers and models interested in getting involved with #GameOfSlaves. If you aren't a producer, photographer or model this page may be a bit dull, you might find the #GameOfSlaves Trailer page of more interest… and that's the page you should check out first for an overview and flavour as a producer, too.
What is #GameOfSlaves?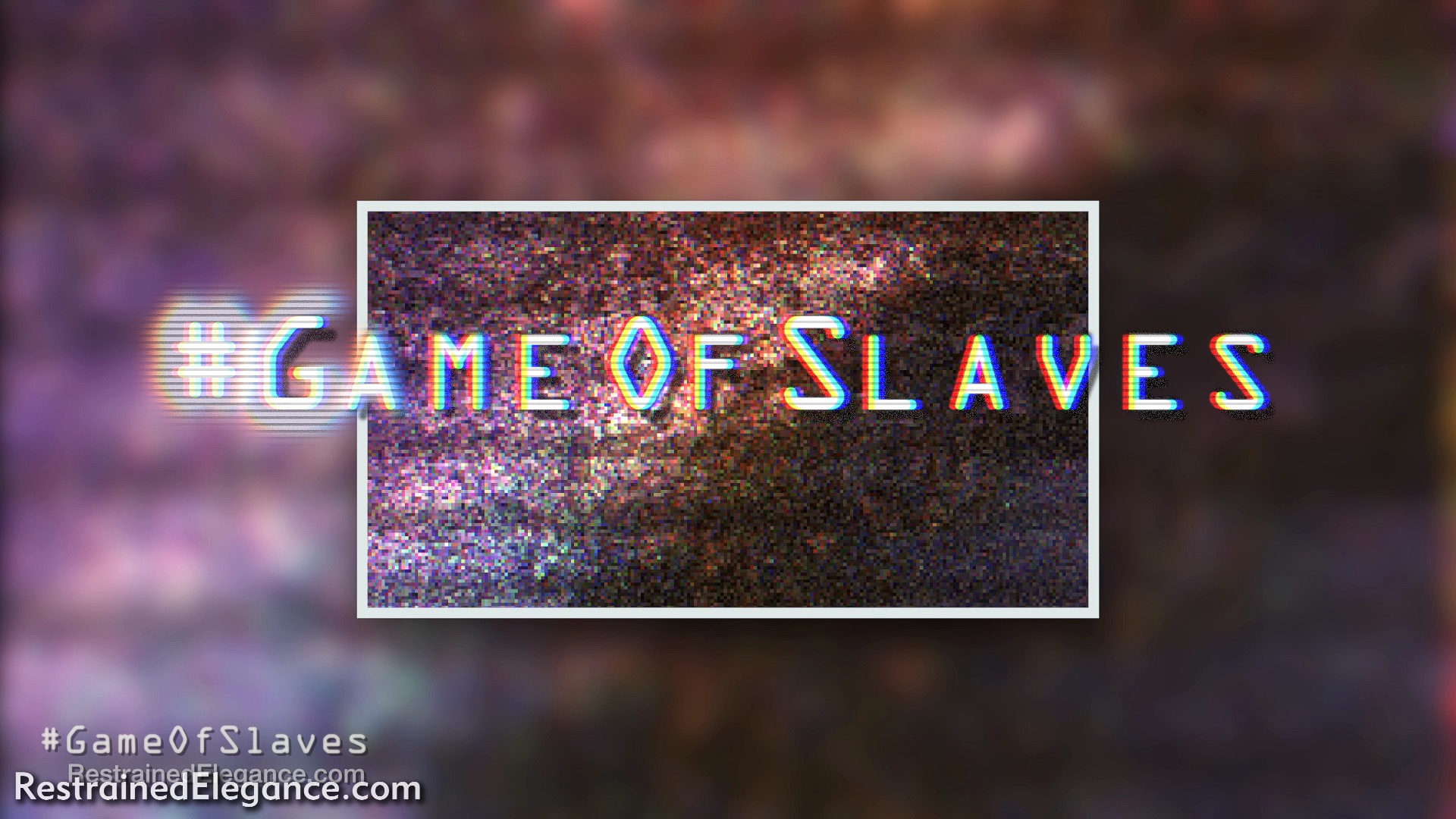 In the fictional world, it is an underground, decentralised social media tag for sharing subversive, clandestine BDSM erotica which has been banned on the sanitised interwebs of 2047. Popular performers gain fame and wealth from rich fans in the game who commission customs, host private parties to be filmed or promote their favourite dommes and subs. A good enough player in the game can become a millionaire.
In the real world, it is a series of loosely connected stories about the fictional game world. Some stories follow characters' development from starting sub to top player or from middle-ranking domme to top-ranked sub. Other stories are just self-contained posts from the fictional characters posted on the game to try to get likes and followers.
As I said, the #GameOfSlaves Trailer should convey the general look and feel of the world.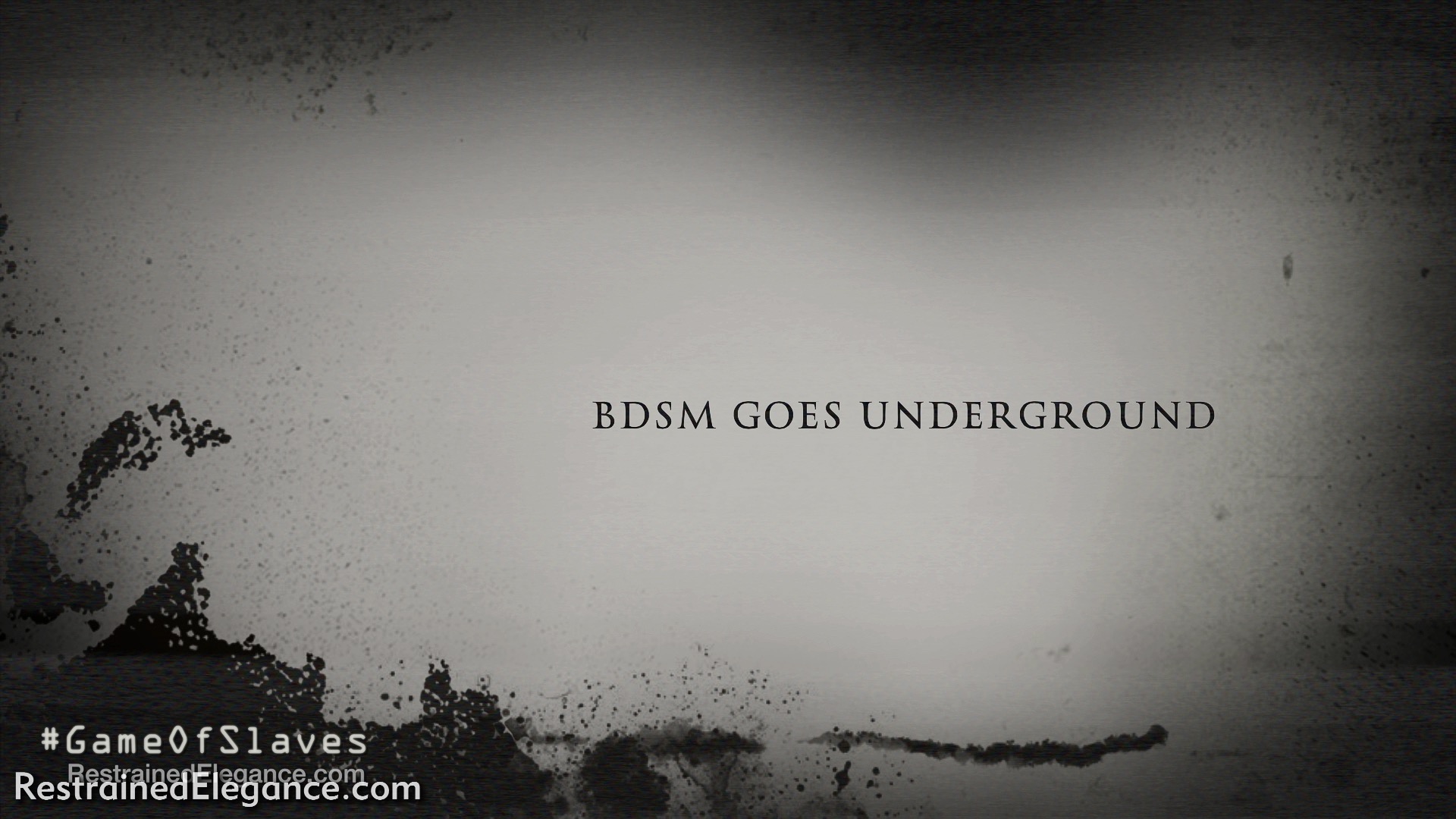 How Do I Get Involved?
Shoot, post, tag #GameOfSlaves
The simplest way? Decide on a character you are going to play in the fictional #GameOfSlaves world. Shoot something- still photos, selfies on your phone, selfie video, anything. Post it to your usual sales or distribution channels: your own web site, Clips4Sale, ManyVids, Instagram, Snapchat, Twitter, anywhere. Tag it with #GameOfSlaves. Job done.
Amateurs VERY Welcome!
You DO NOT have to be a pro to join in! Take a selfie on your phone, tweet it, tag it – congratulations, you just created a character and now you are on #GameOfSlaves!
What about photographers?
If you're an amateur photographer, next time you are shooting with your partner or a model, take a few photos set in the game world with a collared sub or a styled-up domme. Post it, tag it – you've just helped us build the #GameOfSlaves world.
We'd be honoured to host guest galleries of your work on RestrainedElegance.com as well, email me and we can sort one out.
Not a hot chick?
See diversity section below. EVERYONE is welcome to join in. Although RestrainedElegance will be primarily featuring female models, it is an open world. Come and join in, whoever you are and whatever your orientation.
You can find a style guide down below if you want more inspiration or want to follow the format we're using more closely, but remember than the characters in the game are shooting stuff themselves and posting it in a decentralised way. So by design, anything you post and tag should fit right in!
We've decided to do most of our promotion via Twitter, via the hashtag #GameOfSlaves. If you post with that hashtag and tag me ( @RElegance) I will see it and retweet it. If we all do that, we can hopefully build some momentum to share links and publicity and build it into a real-world event.
To facilitate that we've decided to use models' existing names and consequently their Twitter handles as the names of the characters they are playing the game. That keeps things simple and maximises the opportunity to cross-promote.
A link back to RestrainedElegance.com would be much appreciated, but is not necessary.
If you'd like me to promote your clips/photos/etc. then email me and send me a trailer, a selection of pics for a guest gallery, or the first video you shoot in a series and let me know where to link back to so people can buy the full clips or the rest of the series.
I don't use Instagram, Tumblr, Facebook, Snapchat, etc. much so if anyone wants to volunteer as the contact person to help us all cross-promote and cross-post on those platforms please get in touch!
If you would like to shoot something but would like more input to get you started, or you'd like help underwriting the cost of production, I can help.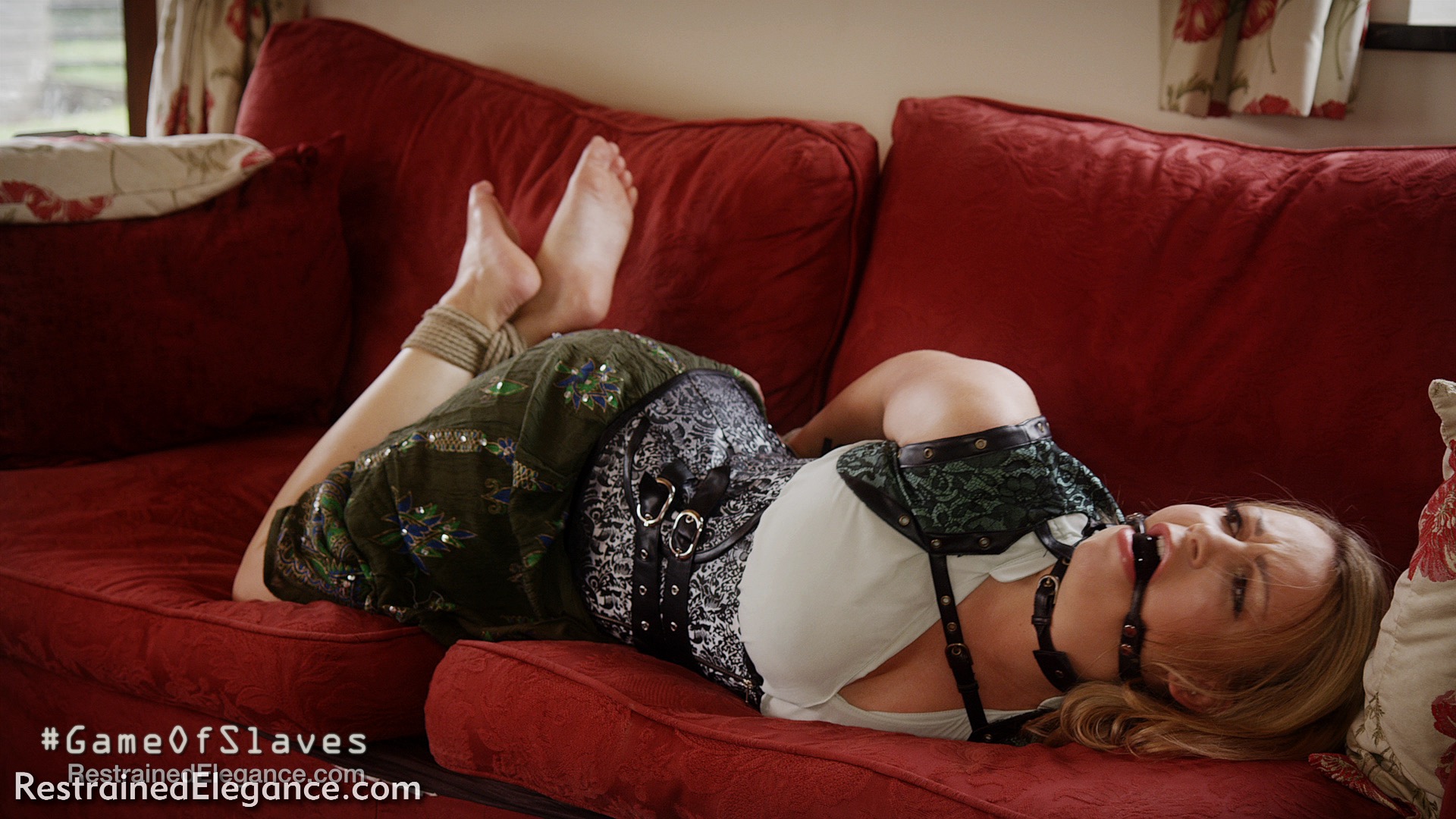 Getting Involved: Collaboration
Content Share
If you're already a producer or model, I'd be happy to collaborate! You shoot a clip or photos with some input from me, I feature the clip on RestrainedElegance.com, you can sell via your own websites and places like Clips4Sale.
I'll pay you something towards the production costs in exchange for being able to feature the content on my membership site. You retain the rights and can sell everywhere else.
We both build on the #GameOfSlaves publicity and hopefully get to carry on and shoot more and make a living. Since Clips4Sale and others are fussy about clips not being uploaded twice, I'm happy to forego the clip sales in order to feature the clips on my members' area. If you have a members' area I'm happy to have you put the clip there too of course.
If you have an idea you'd like to shoot, please email me to discuss.
Custom Shooting For #GameOfSlaves
I am willing to buy content outright for use of RestrainedElegance.com if it fits in very well with the world, it's sexy, and the production values are high enough. If you have an idea you'd like to shoot, please email me to discuss.
This is not my favourite option- frankly, it is a bit high risk for me. If I want content shot to our production standards, why not shoot it myself? But I'm always up for a compelling proposition: I know that there's stuff I am not very good at directing, models I've not had the opportunity to shoot, places I don't get to go… Make it big and exciting and thrilling and fast-paced like an action movie with beautiful barefoot girls in hot BDSM action and I'll certainly consider commissioning you to shoot it!
Regular RE Model Shoots
Of course we will be shooting plenty for #GameOfSlaves ourselves in 2017. If you'd like to model for us, please drop me a line to email me but be aware that our shoot schedule is pretty full for the first half of the year already. It would be hugely helpful if you could shoot a selfie or two and post in the meantime 🙂
I know that's a bit cheeky but the more we build the buzz around #GameOfSlaves the better. We get contacted by more models than we can possibly shoot… but I'm hardly about to pass up a shoot with someone who's already kindly been shooting stuff to help with #GameOfSlaves! So in the meantime please consider shooting something yourself or with other producers and help build the momentum and we'll shoot you as soon as we can.
Only Female Subs? What About Diversity?
Restrained Elegance features female submissive barefoot elegant bondage and BDSM. That's what Ariel and I are into, so it is the only thing we feel qualified to do a good job of shooting.
The sub-set of the #GameOfSlaves world featured on our site will be likewise focussed on women getting tied up. We've decided to make male doms a rare occurrence, more like game enforcers than participants. That's because Hywel HATES appearing on camera!
BUT THIS IS AN OPEN WORLD
#GameOfSlaves is an open world- nothing is stopping you shooting a more diverse set of characters! Please do! Male subs? Male doms? Trans? Genderqueer spanking? Sissy transformation? Pet play in 2047 on a post-apocalyptic farm? Go for it. Just shoot something in character for the world, tag it and post it! HAVE ALL THE FUN IN THE WORLD WITH IT!
We'd LOVE IT if you could shoot the stuff we aren't good at!
Style Guide and Background Information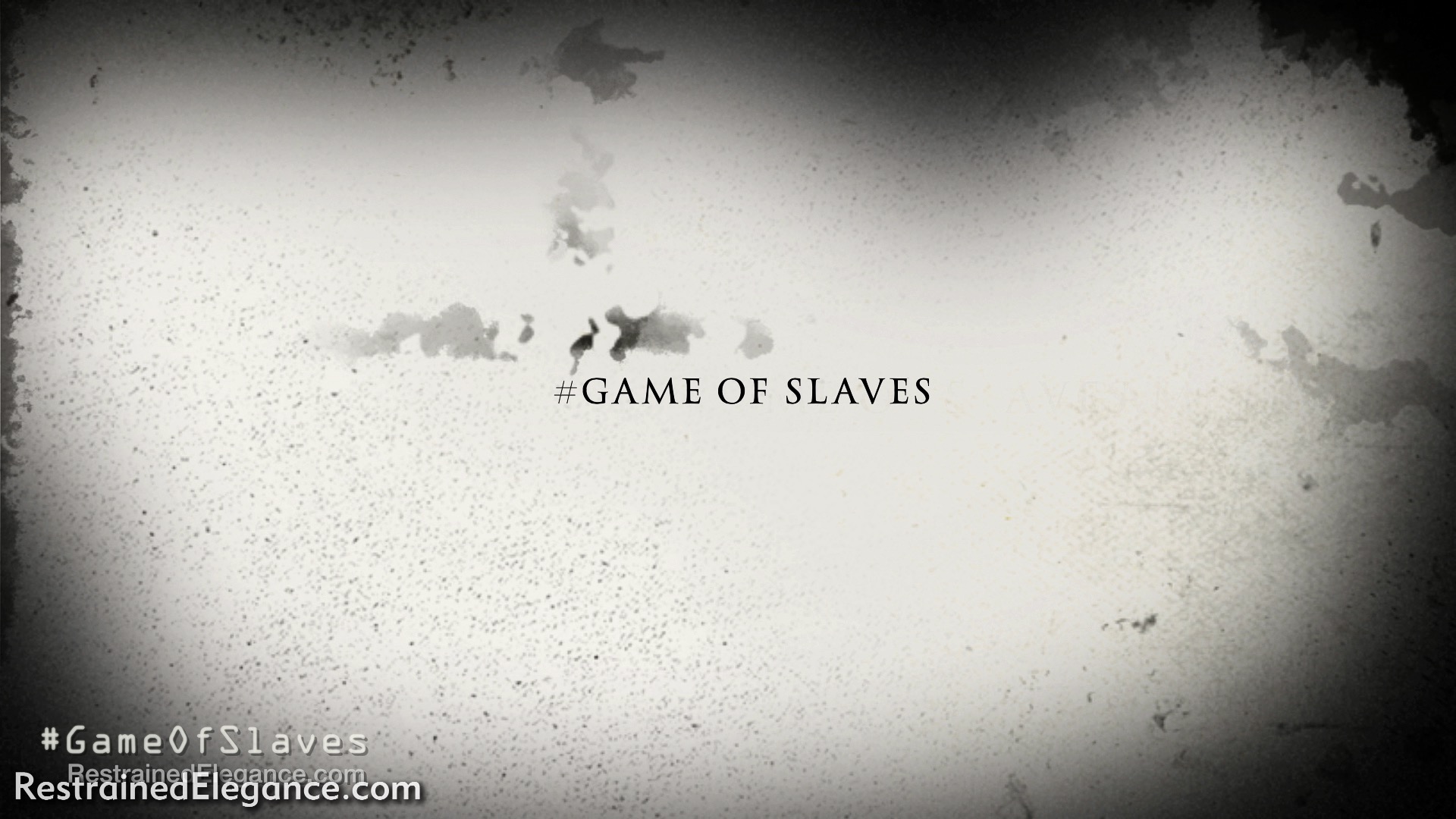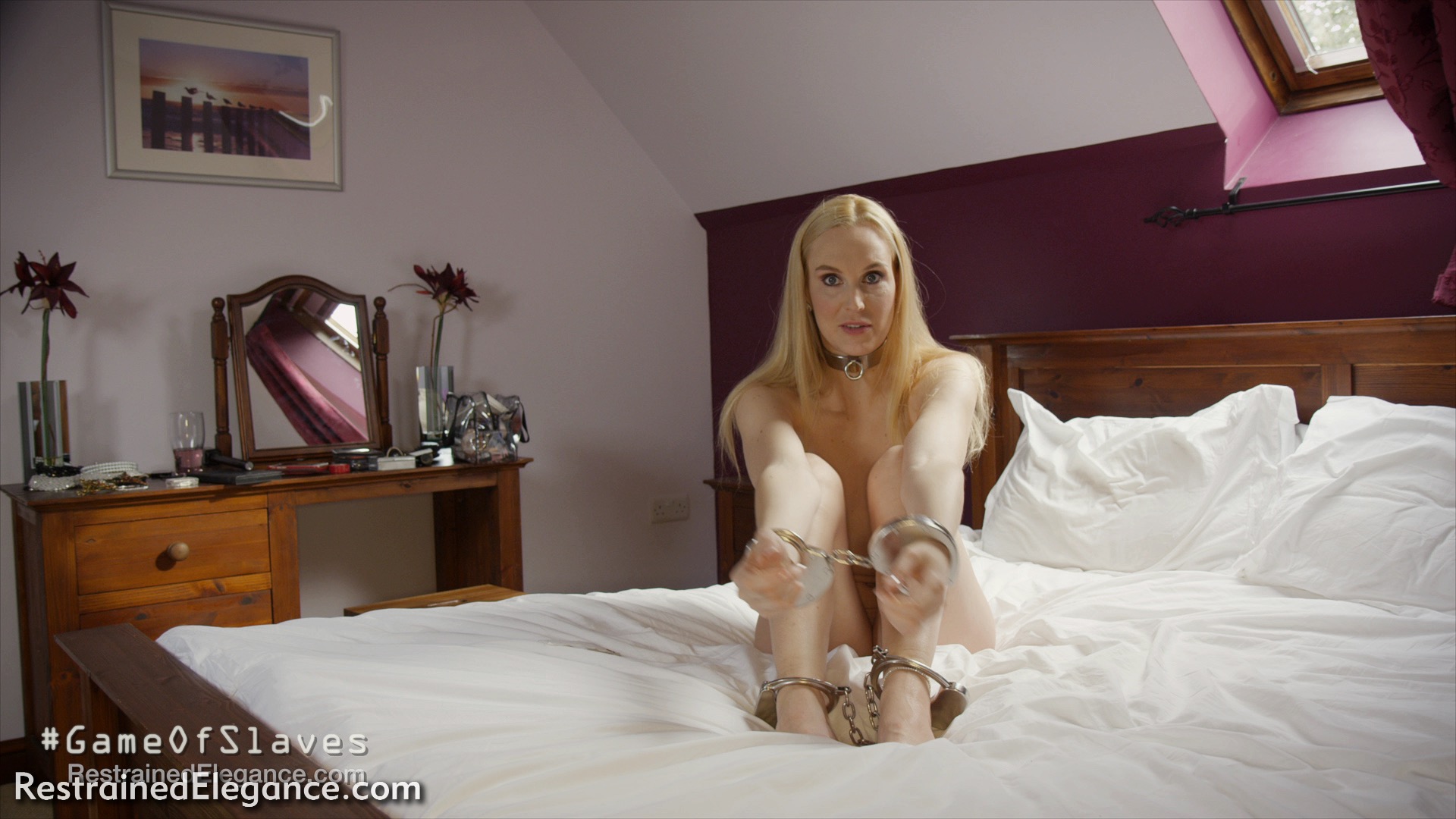 Setting
The year is 2047. Global warming has happened; lower-lying parts of the world flooded. The world is ruled by three economic superpowers: India, China and Facebook. The USA is a dust-bowl post-civil-war wild west. Russia has collapsed under the weight of corruption. Europe has fallen apart, the bits which function best are greater Germany. The UK suffered massive economic decline after the leaving the EU and now survives by exporting the thing it has been best at for a hundred years- entertainment.
Facebook rules half the globe in fact if not in name, and rules the information infrastructure with an iron hand of prudish "safe for the children", and "all your secrets are belong to us". But it is still built on the internet, and there are places and spaces and ways. So while posting a nipple online in 2047 might result in revocation of Facebook privileges and instant loss of job, home and reputation, there are still cracks.
Twitter survives, and out of Twitter and the underground BDSM scene, some entertainment entrepreneurs in the UK started the latest forbidden sensation: #GameOfSlaves. Contestants vie to live out their BDSM fantasies on screen for an audience of kinksters deprived of any other outlet. The game is decentralised, no mastermind to arrest, and no-one to stop you entering yourself just by posting a video or a picture and hashtagging it #GameOfSlaves.
Contestants choose whether to enter as a dominant or a submissive. In the RestrainedElegance version, effectively all contestants will be female- but see "diversity" above. Just because we don't feel qualified to shoot a male-sub version doesn't mean you can't! We'd love you to.
Dommes outnumber subs approximately two to one. So subs are very valuable, and dommes compete with each other to assemble a stable of desirable, popular, highly-ranked subs. This brings dommes into conflict with each other constantly, which means they end up battling it out and getting tied up by rivals at least as often as the subs do. It's important to maintain that feeling of subs being valuable and dommes being at each other's throats for tension and drama in the setting. You don't have to actually show them on screen- just saying at the start of a single-girl struggling clip that she's been tied up by her rival "Mistress Dariah" is enough to invoke the world-build.
Contestants start out with selfies shot on phones and webcams. If they are popular enough, GameOfSlaves will send a camera crew to film them. The top ranked contestants live a life of luxury in secret kinky manor houses provided by shadowy wealthy fans of the game where they play out their kinky fantasies in front of the cameras.
There's a big crossover between the mistresses and slaves because a large fraction of the viewing population likes nothing better than to see a top-ranked mistress brought low and turned into the abject slave of an up-and-coming dominatrix bitch. Especially if she is reduced in social rank in the household to below that of former slaves and mistresses over whom she used to preside. A slave might collaborate with a popular mistress to develop web shows that will get them both followers, or fight to free herself and usurp the previous domme's position. Everyone is out to improve their own ratings, forming temporary alliances and betraying them when they get a bit stale.
There is a shadowy distributed, decentralised open-source organisation in charge of the game and who enforce the small number of rules. This is something we're going to expand upon in stories on RestrainedElegance.com.
Feeling
The contestants are doing something for which they could be arrested. It's tense, but for many it is their only outlet for BDSM. And it is their only chance for fame and fortune, too. Some contestants shoot stuff as though it were fictional, some as though it were a documentary, but many break the fourth wall to speak directly to the fans and viewers because they know they are being filmed.
Make it gritty, edgy, exciting. Or make it cute as the character plays up to the cameras. Up to you. If you are old enough, it's like recapturing that feeling the first time you saw BDSM porn on the web or a Usenet newsgroup!
Game Rules
These are optional but would help fit in with what we're going to shoot.
The only weapon permitted in the contest is a stun gun, which stuns the target for six to ten seconds. We're using Star Trek Next Generation phaser toys for this (with an appropriate "zappy" sound effect added in post). The guns recharge slowly: you only get one shot a minute. So dommes have to be quick and accurate at zapping a sub they want to steal or a domme they want to conquer.
The distinction between the Mistresses and Slaves on-screen is obvious. Slaves may or may not be naked, but Mistresses never are. Mistresses may or may not wear necklaces or neck adornment, but slaves are always collared.
You can enslave a mistress by stripping her naked and collaring her. Doing so will be grounds for a long-running feud. Should the mistress ever free herself, you'll be her target forever.
You can steal a sub just by grabbing her and carrying her off. It is customary to replace at least her slave collar with one of your own when you get her back to your base.
To free yourself from slavery you need to get your collar off and get some clothes on, in theory. But in practice you need to physically escape from your captor's clutches and shoot a film of yourself showing that you're free for it to have any meaning in the game. Pics or it didn't happen.
One exception: you may also free yourself if you manage to strip naked and collar your current owner on camera. If you achieve that, you are automatically freed and your previous owner is enslaved for a mandatory 24 hours where she cannot be freed by any means. Make good use of the time to either make good your escape or take control of your ex-owner's household!
Styling
Slaves are ALWAYS collared. They are usually naked but nothing stops them filming themselves enslaved in sexy satin or hot lingerie or rainwear or latex or whatever their owner or fan-base prefers.
Dommes are ALWAYS clothed. They may possibly wear something around their necks but avoid anything which looks like a collar. Because losing all their clothes gets them perilously close to enslavement, they tend to wear multiple layers of clothes which are hard to remove.
In the RestrainedElegance.com version of #GameOfSlaves that means saris, chinese dresses, silk and satin, corsets and a steam-punk influence. See #GameOfSlaves Trailer page for more examples.
Because I've got a bare foot fetish, dommes and subs are usually barefoot in all our stuff (and on SilkSoles.com too. If you don't have a strong feeling about footwear, making the girls barefoot would make me very happy 🙂
In our stories, subs are mostly going to be locked up in metal whereas when dommes tie each other up, they usually use rope. That gives a rival domme chance to escape eventually (although not in time to prevent you running off with her stable of slaves). Using metal is tantamount to saying you want to enslave her, which is much more likely to spark a long-running feud.
Of course, subs can be rope tied for their owners' or viewers' pleasure as well!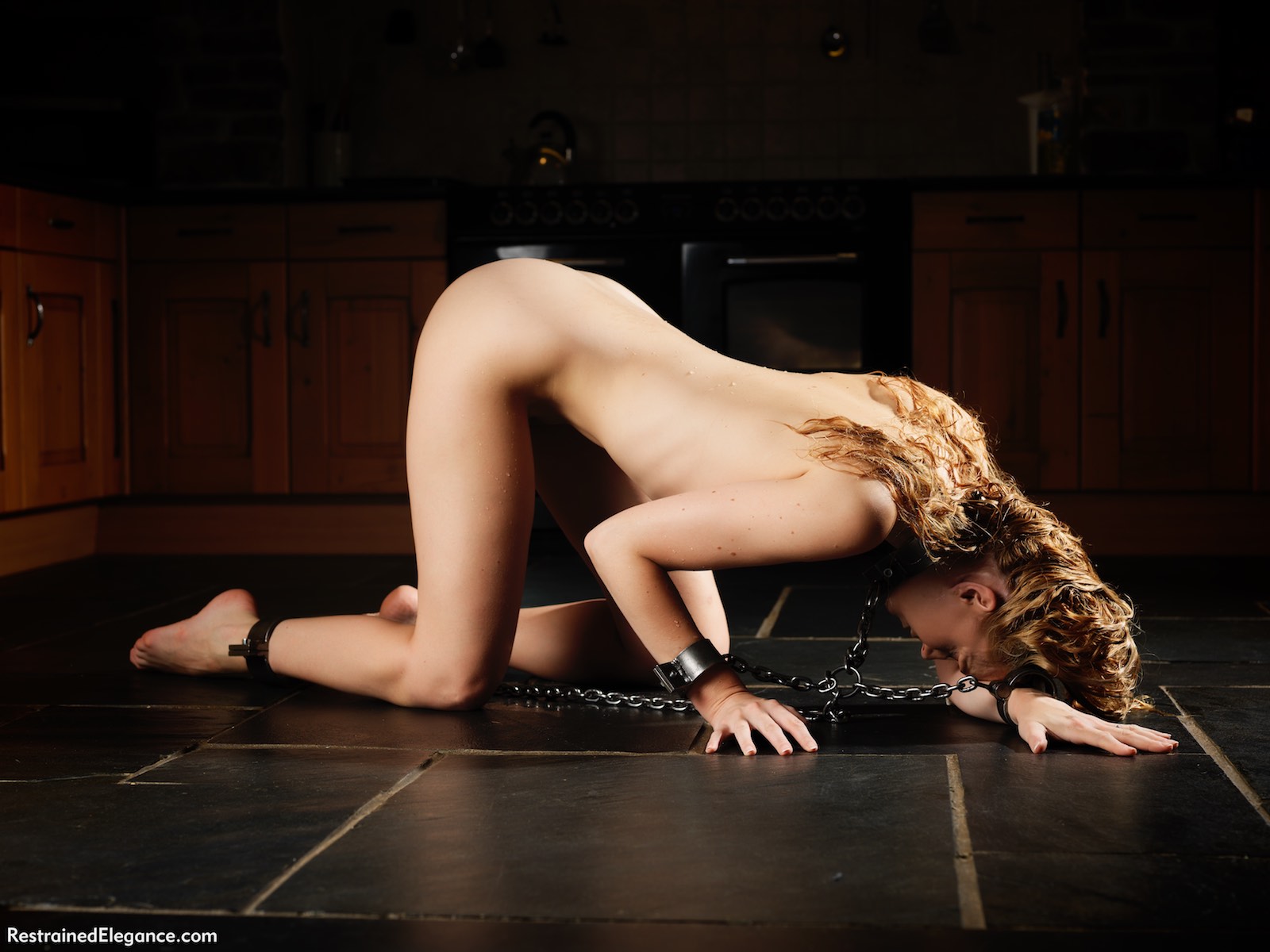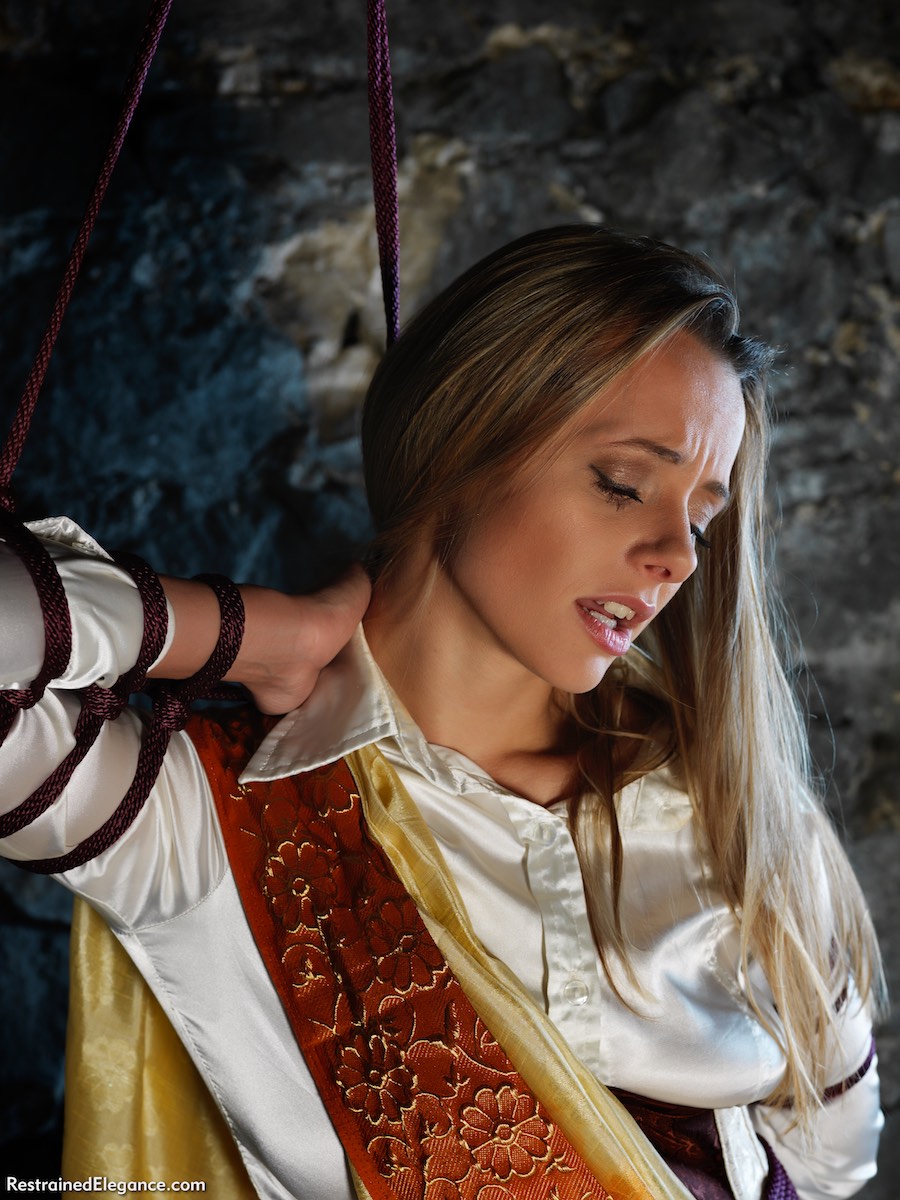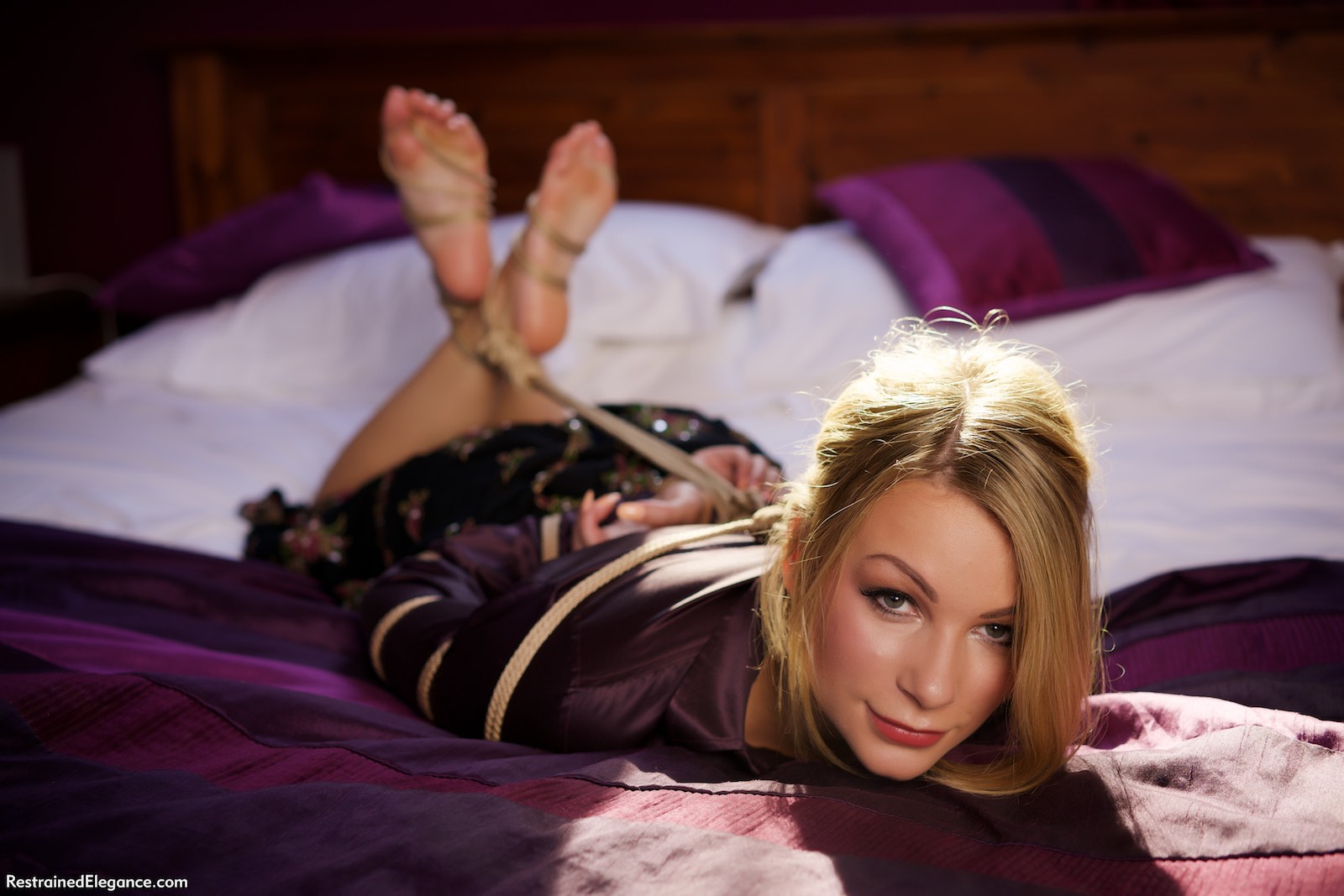 Visual styling: go low key, lots of darkness in frame with pools of light, saturated colours. Add some backlight for maximum glamour. Our style is lush, decadent, moody, elegant. Of course, a lot of the characters are selfie shooting so there can be a lot of variation.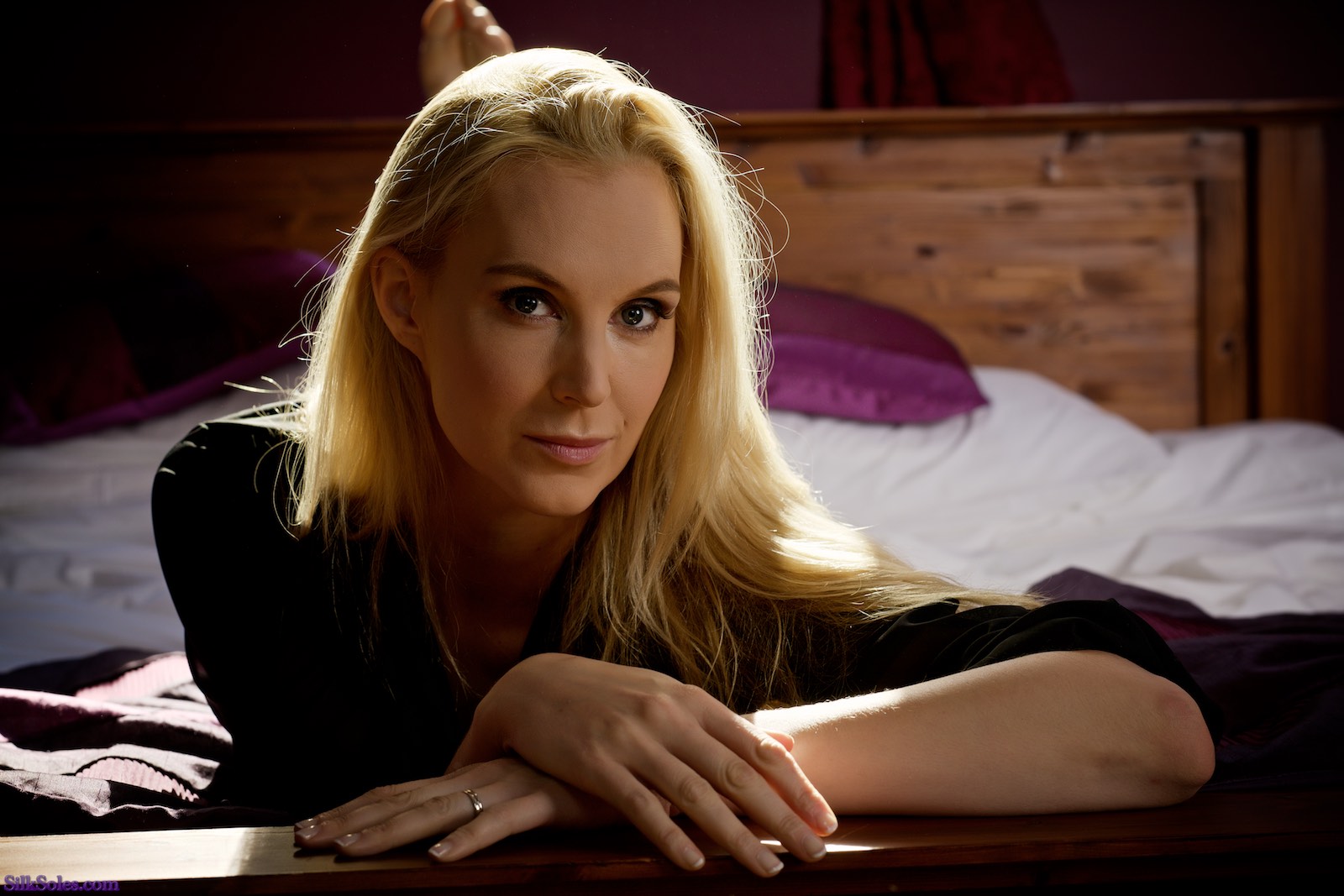 Stories and Ideas
For your first video, why not introduce your character? Who are you? Why do you want to be on #GameOfSlaves? If you love talking, like Ariel does, you could film a piece to camera in the manner of a YouTuber. If you hate talking, you could just shoot an edgy bondage video of yourself and post it just labelled with the hashtag. If your character is a domme, she could be punishing a sub, or just dominating the camera, or giving jerk off instructions, or have the camera spy on her in voyeuristic style. Really, anything sexy and shot with the background in mind should work just fine!
If you're a solo model, you could do some simple self bondage with handcuffs (make sure the key works!). Or just tell the camera a fantasy you'd like to have enacted upon you. Want to be spanked? Want to tie someone up? Show it or say it. Shoot more explicit stuff than we're good at- edging, toys, whatever.
Just make it sexy, intense, fast-paced, dramatic. The whole thing should be like a trailer for a film you just HAVE to see. Don't hang around, change the camera angles a lot. Cut it down so it moves much faster than a normal one-rolling-take video. The characters are trying to grab attention in an underground, jaded setting. Make it compelling and stylish and leave them wanting more.
(That's the thing we are going to be working on most intensively ourselves for 2017).
HAVE FUN!