Starring: Ariel Anderssen & Hywel Phillips
Keywords: darkness, kidnapping, torture, slave training, electro, CP, BDSM, humiliation, nude, clothes cut off, gag, dark romance, nipple clamps, forced orgasms. rope bondage, metal bondage, barefoot, dental gag, ballgag, caning, flogging
Running time: 1 hour 20 minutes
A film by Hywel Phillips
Crew: Hywel Phillips
TEASER TRAILER
Hywel says:
Hywel says: "In The Dark" is a very personal film for me. Over the years I've made a lot fantasy films with fantastic settings and our signature elegant style. But what I've never really tried to do before was to make a film that was grounded in what it is REALLY like as a BDSM couple. I wanted to make something that was intense and emotional but was grounded in real life.
I also wanted to go back to a "purer" time in Ariel and my career, to projects like Long Term Bondage and Bondage Driving Test. Filming those INTENSE scenes back then was a magic doorway to exploring our own fantasies safely… in a way which neither of us ever dreamed we'd be able to do for real. The rolling cameras gave us permission to step whole-heartedly into our roles and explore the things we'd always been obsessed by but didn't think we'd ever be lucky enough to do. From them, we fell in love, got married and settled down together.
I wanted to go back to the simplicity of hitting record on the camera and just documenting the BDSM scene between us, without the constant cuts and camera angle changes that are the signature of the more cinematic single-camera shooting style. No crew, just the two of us. I wanted to do something different to match the intensity of those early scenes. But I wanted it to feel real and grounded, something that couples in BDSM relationships could relate to and say "yes, sometimes it does feel like that".
In The Dark is the result.
I decided to shoot a scene where Ariel is kidnapped and tortured in the dark. I wanted to film the whole thing so she couldn't see, totally in the dark. I'd have to figure out how we (the audience) could see what was going on – an hour of sound but no picture might not tell the story well enough. And I'd have to figure out how to both shoot it, be in it and run the scene as the dom safely in 100% darkness.
Fortunately, technology provides.
The BDSM scenes which make up 1+ hour of the runtime were shot in infrared light, using a Canon dSLR modified for infrared sensitivity. I lit the scene with infrared security spotlights. I supplemented the Canon with a cheap action cam with no IR block filter, plus my mobile phone to record the view through the monocular night sight I was using so I could see well enough to control the scene.
I also ran a non-modified camera at the same time so you could see what Ariel could see… which was essentially nothing. A tiny bit of light spill under the warehouse door, and the occasional blinking light from the cameras. She couldn't see where I was or what I was doing at any point, and consequently her startled reactions and screams are totally real throughout.
Here's a frame from the unmodified camera: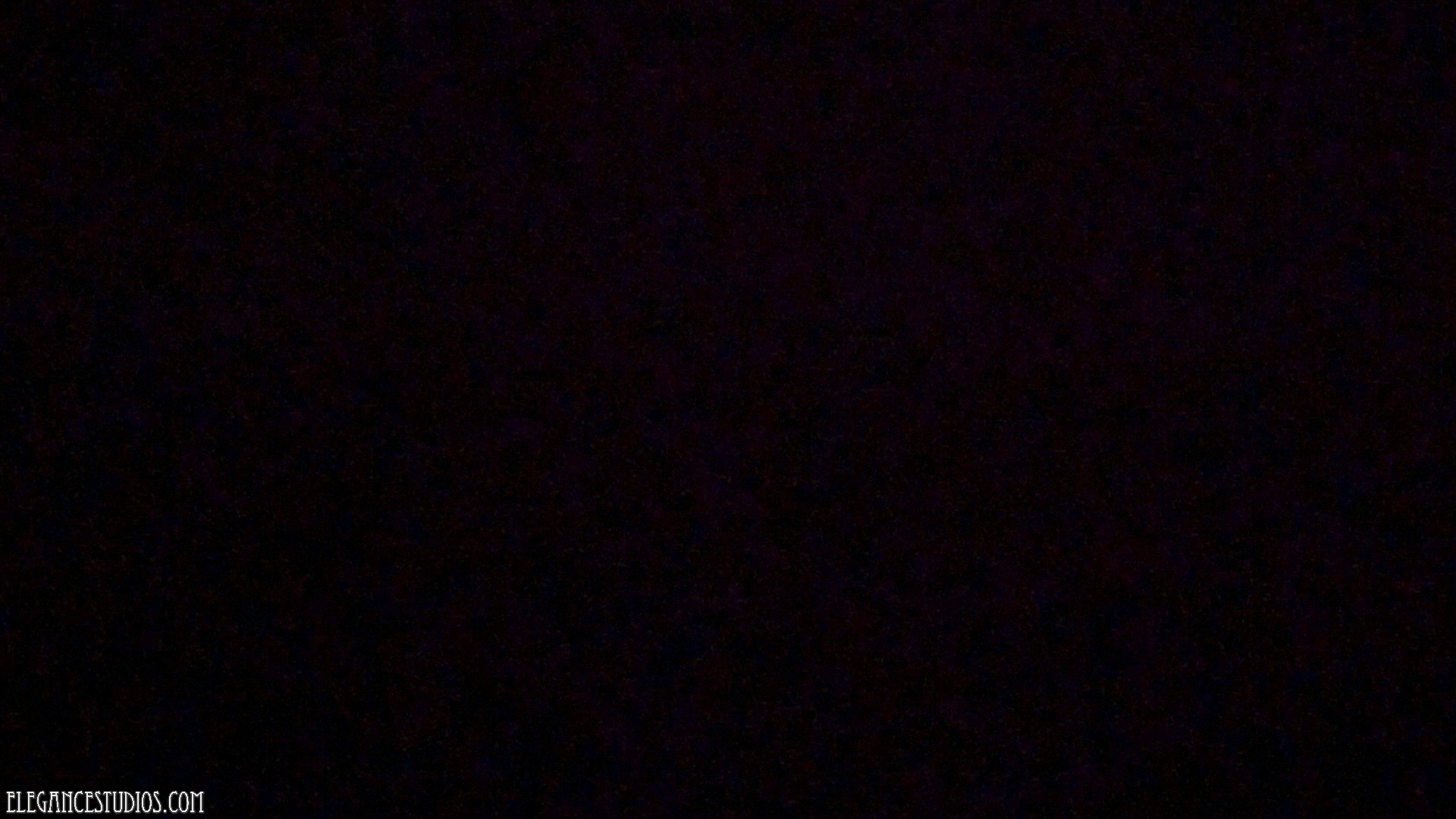 i.e. complete darkness!
Here's a frame straight out of the Canon. The magenta colour is just an artefact of how the camera's different channels registered the infrared light. Scientifically speaking since the "colour" the camera was seeing was invisible to human eyes, this colour is meaningless and the film could have been in black and white.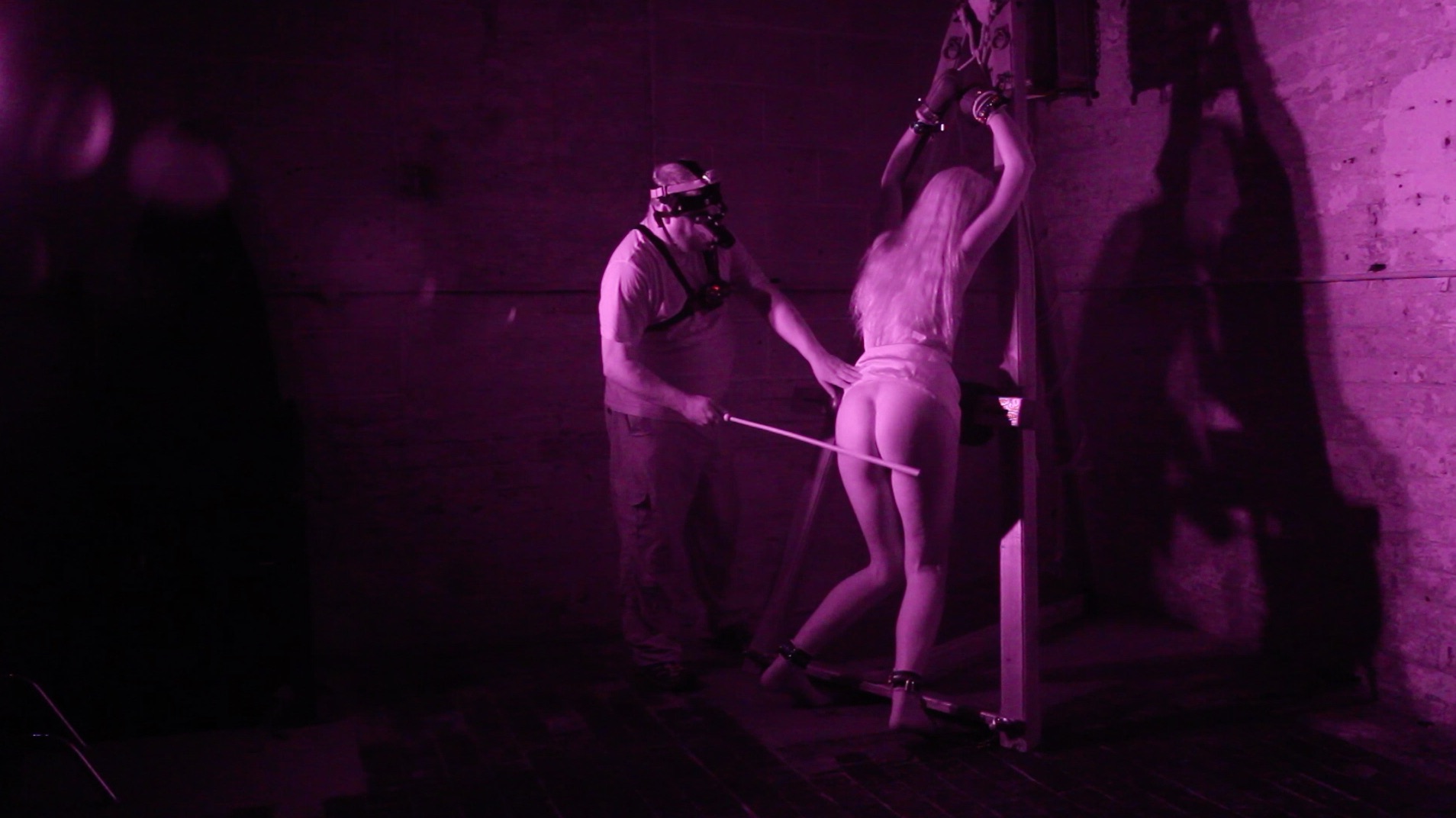 When I showed a bit of the film to a couple of people early in the editing, we decided the magenta would be too wearing on the eyes for an hour plus of footage. It didn't look as dramatic as it might have, and if possible I wanted to queue you visually to the fact you were watching infrared security camera style footage.
So I came up with a profile that was sort of black and white ish, but with Ariel's skin tones in a nice flattering sepia and the background falling off to darkness and hints of night-sight green, to match the shots taken through the monocular. This is the way the infrared footage looks in the finished movie: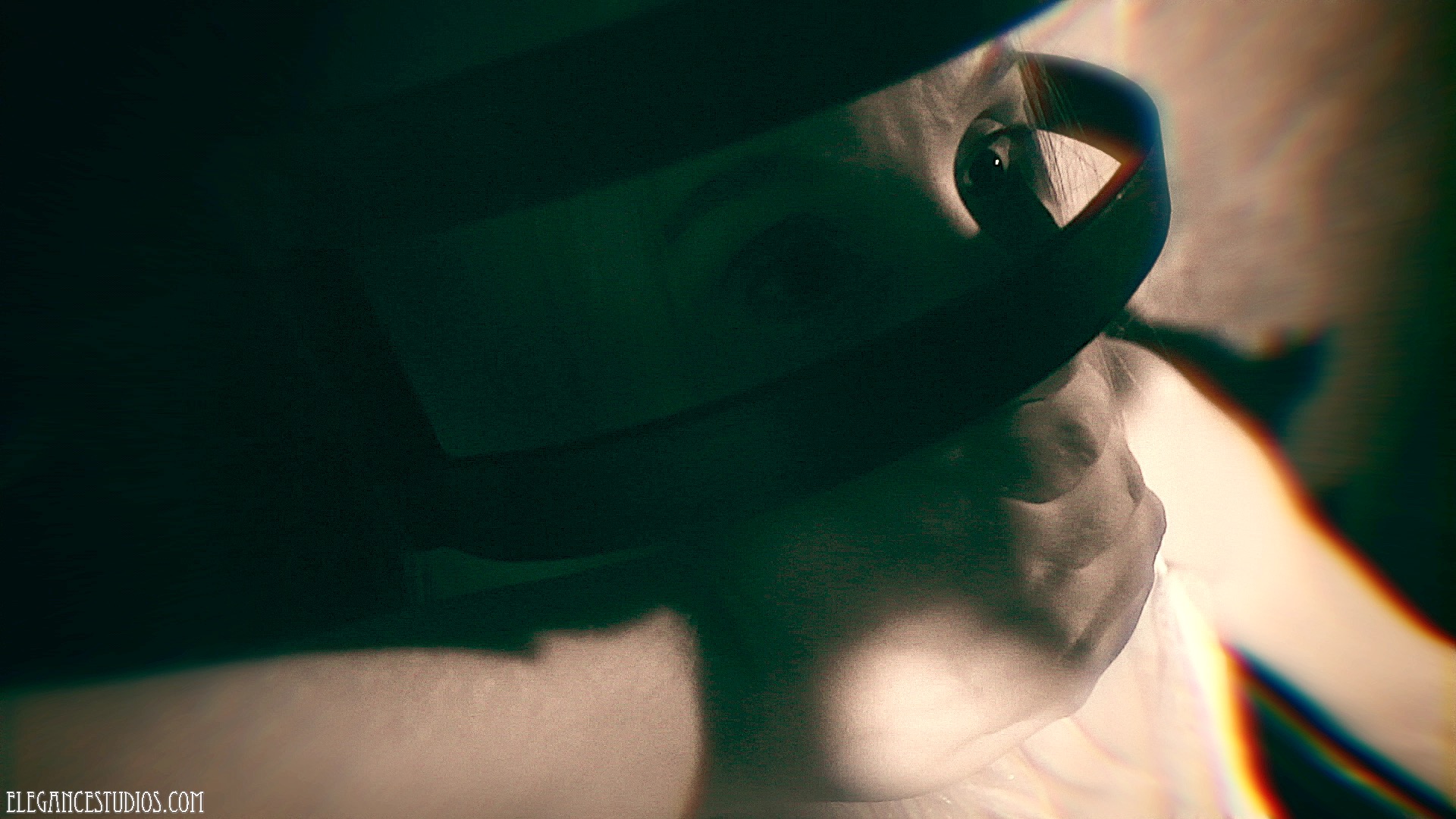 I made the black-and-white image from the action cam more like the night-sight as well, so everything looked consistent. I'd have liked to shoot a bit more through the monocular, but I needed it to see! Caning is hard to do accurately with just one eye through a night-sight, by the way! Oh and I forgot that some black clothes register quite bright on IR, so my black T shirt and black trousers look almost white on camera. I should have tested it beforehand, I wanted to be a more sinister dark figure on screen but I didn't have any other clothes with me on shoot day, so we got what we got!
Here's the monocular/IPhone footage: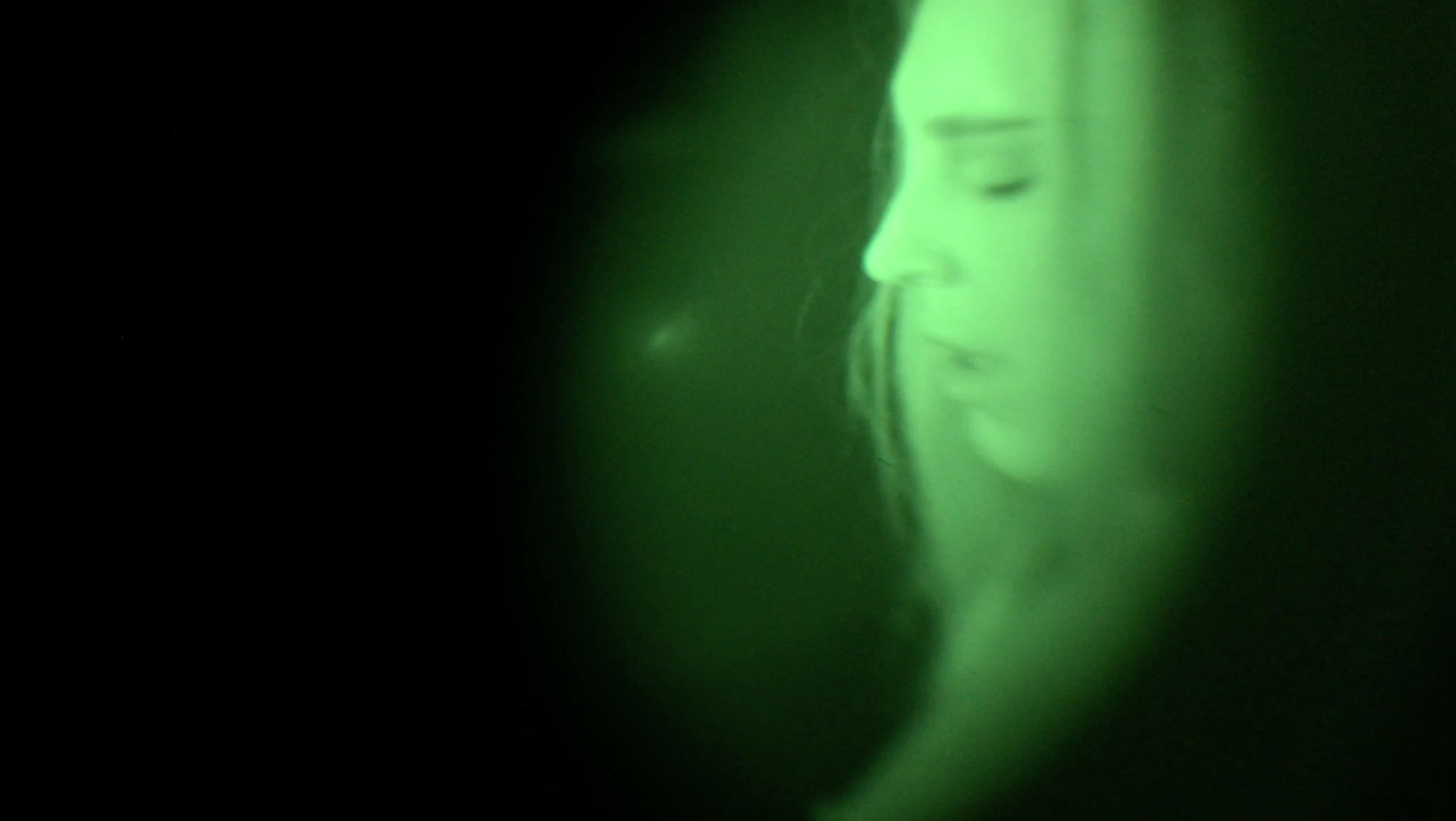 I also used ultraviolet light for two of the bondage sequences. I'd got hold of some rope and tape which fluoresces under UV light because I thought that might look cool, and indeed it did: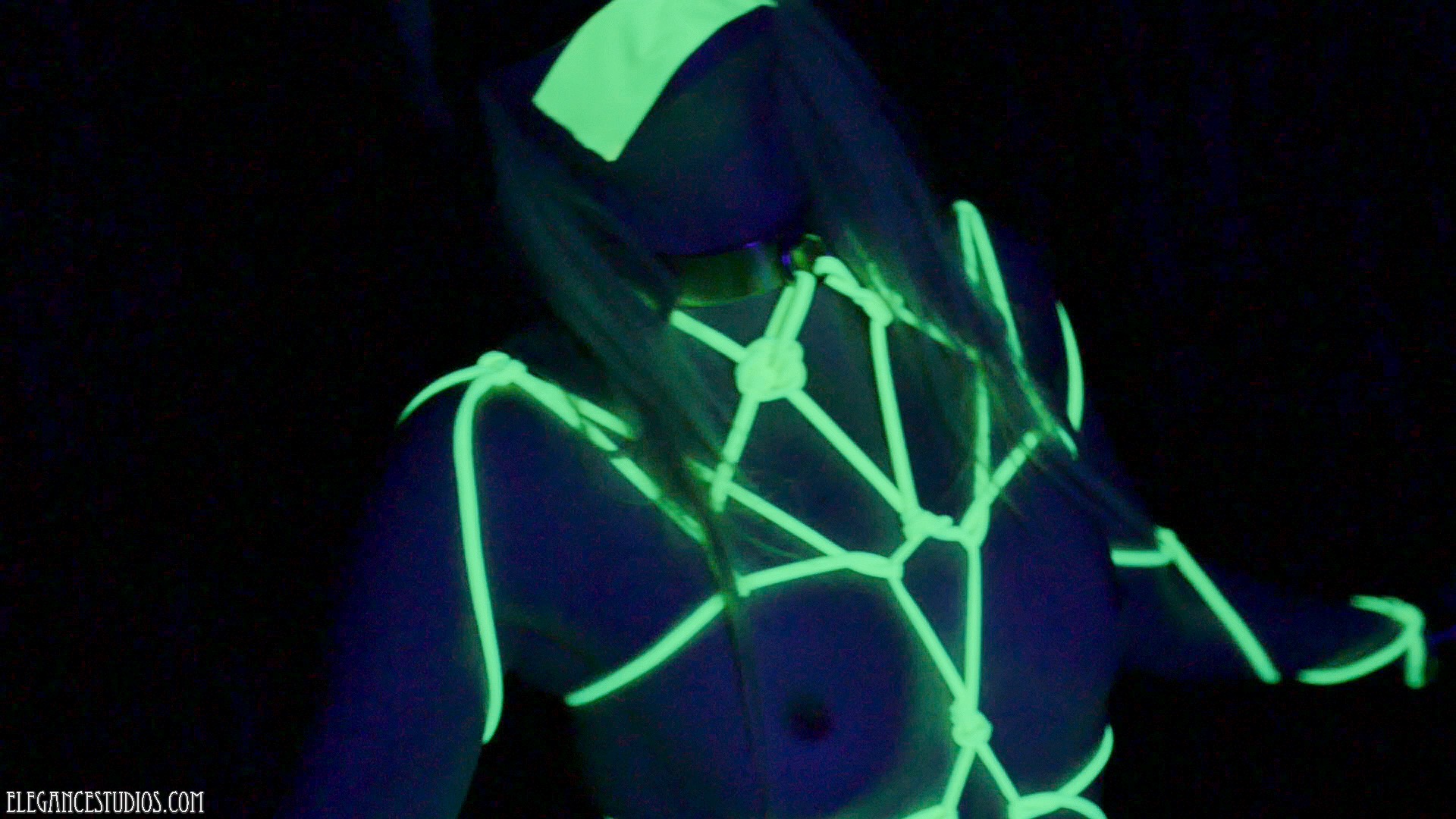 … and that is me, as usual, talking all about the technical aspects I was supposed to be ignoring in favour of hitting record and letting the intense scene play out.
The film is about BDSM burnout, which I'm sure Ariel and I are not alone in having had from time to time. Sometimes you need to go for the next step, the more intense thing… but sometimes you need to step back, and find the hotness in simpler play or vanilla romance; you maybe just need to find the right head space to remember how hot it was the first time you had a night together that ended up with bondage, even if that bondage was a silk scarf and a hotel bed. The worst thing can be when the two of you are at different phases of that cycle- when one of you wants and needs to be dangled upside-down in a strict shibari tie with hot wax cascading down them in a super-intense pro-level scene but the other person just needs company and a cuddle and to remember the hotness of seeing their partner take off their shirt for the first time again.
This isn't an actual true story of anything that's happened to us. But it is a lot closer to home than anything we've shot before. (Oversharing, as usual, sorry…) We had to take a lot more care with each other's feelings than usual as we wrote and developed the script. It's not meant to be a criticism of either of us, but I think it hits quite close to the bone for subs who want to drink in the maximum experience in safety and doms who want to run the show but also have to have their health-and-safety monitor program running all the time. There's always a big bit of us in the roles we play on screen, but this felt like opening up the vulnerable side of being in a BDSM relationship much more than we'd done in previous projects.
I certainly felt sympathy for my character having to keep all the balls in the air whilst juggling as we were filming this- remember that Ariel couldn't see anything, and was mostly tied up to boot. I could only see through a night-sight monocular! Doing that with cameras, lights, sound, rigging, safety, acting, caning on target, doming and making the scene hot was one hell of a challenge. But then I got the reward of Ariel's reactions which as you will see are hot as all fucking hell.