If you are reading this, I'm going to assume that you are interested in adult entertainment. You're a model, a photographer, a website producer, a cam-performer, a sex worker, a fan or a devotee of kinkiness and erotica.
The chances are you are already on Twitter, and you're probably using it to keep in touch with your customers and fans, network with other adult industry people and kinksters, promote your website, OnlyFans or Clips4Sale or because you're a fan and you like to meet up with the people who make your favourite porn.
Twitter is pretty good for this. Pithy tweets, actual conversations, and the ability to post pictures and videos for people to share and enjoy. And up until now, Twitter has been pretty good at sticking to their "free speech means adult entertainment is OK on our platform" principles.
Unfortunately, if you've been around a while, you'll know that any monolithic platform run by one company is one CEO decision away from the Pornocalypse. First they mark everything as "sensitive" or "NSFW". Then they silently censor it or move it down in search rankings. Then, when they've got erotica all corralled in a nice little area, they can just cut it completely.
Now I don't KNOW if Twitter will do this. But I've been on enough platforms that have done it in the past that I'd rather not trust to luck. Paypal, Google AdWords, Patreon… I'd like to be a little bit more prepared this time around.
Which is why I started looking around for alternatives. I think I've found a decent one, and I think you should be on it too. It's called Mastodon and it is like Twitter but based on open-source code and is distributed.
EXECUTIVE SUMMARY
It'll take five minutes, tops.
Sign up to a Mastodon instance. Ours is at https://kinkyelephant.com. The big one, https://mastodon.social/about, is fine so long as you flag adult content. Switter.at is a sex-work friendly one (again community-run). There are other free ones, or you can host your own for 5 EUR a month.
Set up cross-posting on https://crossposter.masto.donte.com.br/. Your Mastodon can automatically echo what you tweet. You can set content warnings here, worth doing for maximum reach (see below).
Encourage your followers to sign up and follow you.
Be smug when Twitter bans you but you are already up and running and have lots of followers on a new platform with almost zero effort.
OK, five minutes is just to set up your Mastodon feed, echoing your Twitter feed. It's getting followers to sign on and follow us to assemble a critical mass that will be the hard bit. That's why I'm posting this in the first place. The sooner we start, the better chance we have of staying ahead of the curve.
NOTE: When you sign in after verifying your email, you need to log in with email address, not the username you chose for the instance. This is annoying.
In more detail
Mastodon is Distributed. What that means is that you can run your own server, called an "instance" which communicates with other instances ("federated", in the jargon). They company can't shut you down, because there's no one central company in control of the servers. With enough people running instances which talk to each other, you get a look-and-feel very like Twitter, but without the "CEO decides to cut porn today" risk. It runs on open-source protocols. Each instance talks to other instances to build up a social network, rather than having Big Brother at the top snooping down. Privacy is better protected, more under user control, up to and including running your own single-user instance with no-one else having ANY privileged admin access to your private data.
There's got to be a catch, and there is. Right now it is tiny. The main instance, https://mastodon.social/about run by the dev who is developing the system, has only got 136,000 people. Some of you may have that many followers on Twitter. Right now, you probably won't get NEW customers from Mastodon.
But we can bring them. As producers of adult entertainment we do have pulling power. People have always followed the porn, and as porn gets harder and harder to access on platforms like Instagram and Twitter, they'll follow us wherever a critical mass of erotic artists and performers ends up. They followed us from Usenet newsgroups to websites to Yahoo groups and they will do so again.
Prepared For Losing Your Twitter Account?
If one day you lose your twitter account for one nipple slip too many in your profile, how will your fans be able to reconnect?
If you've started posting on Mastodon, and encouraged your fans and followers to come with you, you've got a ready-made fallback. The platform isn't perfect and this may not work. But it's better than sitting around waiting for the axe to fall on us AGAIN from social media companies.
I figure it is worth five minutes.
STEP ONE: SIGN UP
It's super-easy. The first thing you need to do is to sign up to some Mastodon instance. Which one?
Easiest option: https://mastodon.social/about. Adult stuff is allowed so long as it is tagged. You can see the full terms and conditions here. Tagging is just like twitter- set a flag in your profile to mark your media posts as sensitive. If you're a fan, reading rather than posting, this is a no-brainer. As a content provider, I'd say sign up on there too as a first step. You can always have another account on another instance and it'll help if you do create your own somewhere down the line.
Middling option: Find another public instance which supports the stuff you want to post, via https://joinmastodon.org. Here are two examples:
Friendly kinkster option: I've made an instance myself, https://kinkyelephant.com which you are welcome to join. Email or message me for an invite. I intend to make this a resource for BDSM and Fetish producers, photographers, models and fans.
Sex-work friendly option: switter.at.
Harder option: Make your own instance, hosted via https://masto.host. That's what I did. Basic plan costs 5 EUR a month for unlimited space and max 100 users, and you'll be in control. Hugo had it up and running for me in a couple of hours.
Hard techie option: or you can go the full monty and install an instance on your own hardware if you know what you are doing. If you are worried about "who pays for it, am I the product?" this is your answer. YOU can pay for it, directly, and have control over your instance and all the code on it. This way you're not even beholden to a hosting company.
STEP TWO: Cross Post with Twitter
If like me your main publicity tool on social media right now is Twitter, you may not want to curate another feed on another platform. Fortunately, you can set up automatic cross-posts between your Twitter feed and your Mastodon.
Go to https://crossposter.masto.donte.com.br/. Log in with your Twitter and with your Mastodon. Set to cross post. You can do it so tweets appear on your Mastodon, or vice versa, or both. Set it to ignore retweets, replies, etc. for a clean feed.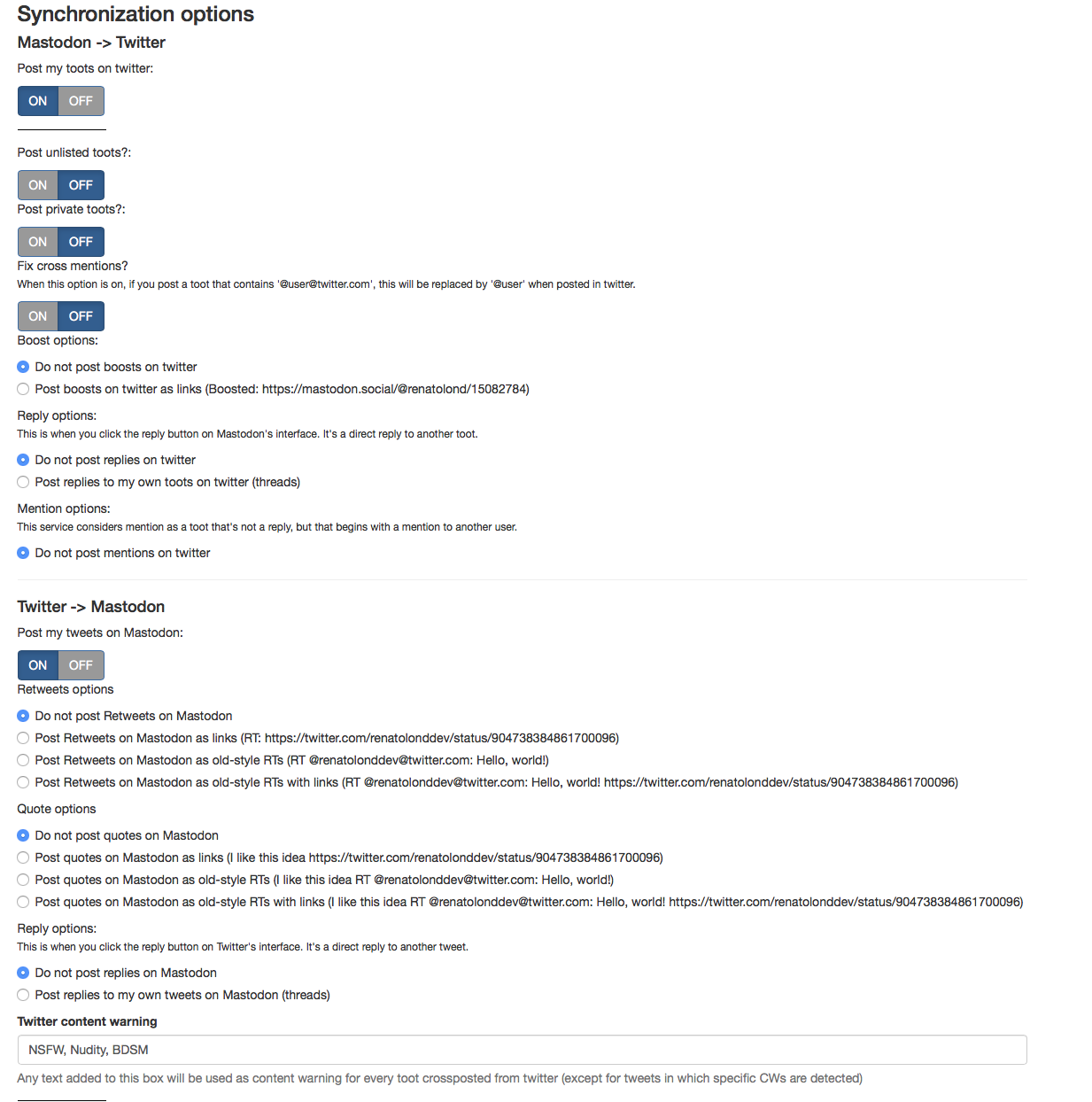 Mastodon has a content warning system, one for text and one for pics.
For pics, the easiest thing is just to set Preferences -> Always mark media as sensitive in your Mastodon control panel.
Supplement that with text saying what the warning is about. When posting you can click the "CW" button as you compose and flag it with words: NSFW, Nudity, BDSM in my case.
You can set the cross-poster to add these automatically on stuff from your Twitter feed: scroll down to "Twitter content warning" and add a few words (I have NSFW, Nudity, BDSM on mine as that covers 99% of what comes up on my twitter reposts).
I gather that will make it more likely that our posts will be widely shared and our instance happily federated by other admins.
STEP THREE: Apps
The most common recommendations seem to be Amaroq (iOs) or Tusky (Android).
Of course you can just use it in a browser, which is what I do. (So I can't speak for the above apps personally).
STEP FOUR: Tell Your Followers
Now get your current followers to sign up to a Mastodon instance and follow you.
This will grow the network and get us towards a critical mass. But more importantly, it means if and when Twitter gives you the chop, you'll already have at least SOME of your followers up and running and ready to keep in contact on a new platform.
Follow a few admins and other producers. Post with hashtags (because that's how search works on there).
STEP FIVE: See What Happens
I got all this set up from scratch in about 24 hours, including my own instance and a bit of reading around to understand how it works. I put this post together so the most important info is in one place so you don't have to go looking.
I have no idea if this platform will have any longevity, but it has got a lot to recommend it and I figure it is worth a go. Especially since getting an "echo feed" of your Twitter onto Mastodon is literally a few minutes work, tops.
HINTS
You find other people by their handle, which is (@)Username(@)instance. So I am
@RestrainedElegance@kinkyelephant.com
for example.
When you get in, the interface is Twitter-like. (And even more TweetDeck like, if you've used that).
If you are on your own instance, you need to start following people on other instances to get "federated up". Google it- basically follow a few admins of other instances, and tell your fans. If they sign up and follow you from a big public instance, job done.
Use hashtags, that's the only way to search. We need to establish stuff like #BDSM #bondage #adult #erotic #footfetish etc. so new people can find us if this does all take off.
Annoyingly, right now there's very limited scheduling facilities for queued posts. There's one in beta but it doesn't allow pics yet. But while we're still allowed on Twitter we can use their queued tweets to schedule stuff via cross-posting which is a workable solution while we build followings. But at least they're working on it.