I'm not often lost for words (as you can probably tell).
But today's 18th birthday of my little website-to-help-cover-shoot-costs website leaves me a bit gob-smacked and unsure what to say.
I've said a lot of it before- how I never expected the site to turn into a business or to make my living doing this. I certainly think I would have been astonished at the sheer technical progress that we've made – from crude scans of slide film to the first digital SLRs to cameras which routinely now deliver results far superior to those of the highest end film medium format cameras of 2001.
We've gone from 30 second videos shot on miniDV tape (and thinking that was remarkable- a TV-quality recording from a small box) to 4K footage that equals what Hollywood was shooting on just a couple of years ago. From flaky Jessops-own-brand flash lighting with a recharge time of several seconds to portable studio flat packs capable of overpowering direct sunlight and yet which can be carried in one hand. From tungsten hot lights from the stone age to large LED panels delivering colour-tuneable and dimmable light of delightful quality.
In bondage terms if I'm honest I've made less progress, but I've still gone from home-made cuffs and ropes from B&Q to tying awesome suspensions and travelling the world with a collection of brightly coloured ropes and heavy metal bondage, locking up 250 of the world's most gorgeous women.
I think the thing of which I am most proud, though, is this page from the RE maintenance pages (a system written for my by one of my University friends, drafted in as most of my friends have been in one way or another):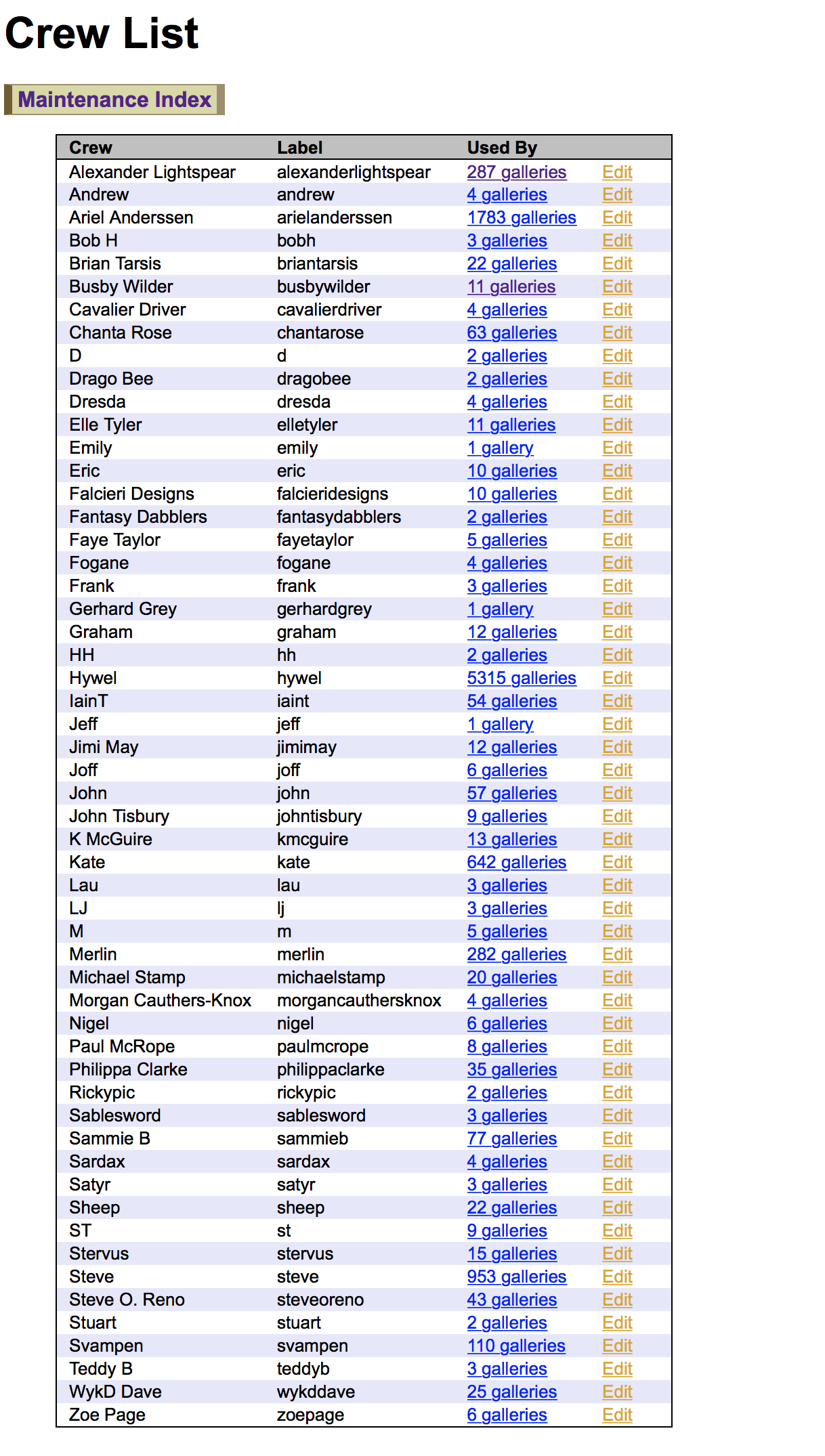 This is the list of people who have contributed to the site behind the scenes or behind the camera. In 2001, I would never have thought that I'd have worked with over 50 people on my little website project with them contributing everything from ideas and bondage gear through to their time and energy and even donating material they have shot and paid for because they feel that Restrained Elegance is a safe, respectful environment where their creative output can have a home.
I'm quite shy, terrible at small talk, forget to smile and consequently off-putting on first meeting. People think I hate them. Plus I'm a weapons-grade introvert, so after a few days I shut down and have to go and hide. All of which makes a miracle that we've managed to sustain a BDSM community around something I created, really!
That Restrained Elegance is still here today is a testament to the power of the collegaite, collaborative model of doing business. Even if that business is making erotic art.
I prefer photography to drawing BDSM because of the opportunity to collaborate with models. I have some idea how to light and how to frame a shot. I've got some idea of how to tie safely in a way that's relatively flattering. But that's all for nothing without the skill and technique of a model who knows how to work with that and pose herself towards the camera, with exactly the right sort of sexy-but-scared bondage emotions projecting on her face, putting dynamic tension onto the ropes that translates to eroticism on the screen.
I've got some idea of what makes a cool story-line, but nothing beats working together with other creative people in a stimulating location to come up with ideas that are superior to anything we'd have come up with on our own. That's why the highest point of a very high plateau of good experiences for me are the Restrained Elegance location trips, where we all pool our ideas and have a week-long frenzy of creative output.
And the other thing which I would never have imagined in 2001 is how lovely our members would be. That's not to say I imagined you'd all be horrid- I don't think I had any preconceptions. Indeed it was a surprise that there were any people out there who would be interested enough to sponsor the creation of more BDSM erotica. I don't think I expected to meet so many people, discover that so many couples enjoy the site together, find people whose exposure to the site led them to explore BDSM in their personal lives, maybe even catalysed them to realised that they were kinky.
I really didn't expect so many of them to turn out to be photographers, authors, artists and film-makers, either. If you'd suggested to me back in 2001 that my future fetish model wife would be travelling the world working with people who have been members of the site at one time or another, I'd not have believed it.
Well today is the first day that the website might be older than some of its members, and that's a huge privilege and responsibility. We've got two big location trips coming up, and we're adding more sets to the total created by the Restrained Elegance collaboration. We've got a new contributor, Drago Bee, whose work you will be seeing here over the coming months and hopefully years (Ariel will tell you more about that in her piece on the site's birthday).
As always, this is only possible because YOU support it. The money you choose to pay to us goes directly to making more BDSM erotica (literally: 80% of the site's turnover goes straight back out on shoots, models, locations and equipment. The rest allows me to eat and keep a roof over my head while I manage all this creative effort from so many people). Restrained Elegance will keep going so long as you think our output is good enough to support. Maybe another 18 years, who knows? I hope so!
Hywel