UPDATE: 2nd June 2020
Hello lovely models! It has been fantastic having so many of you send in "Lockdown selfie" photosets and videos!
The only thing that has been stressing me out is having to decide whether a set merits the "pro" level of payment or just the "selfie" one. As a result I've decided to just pay a flat rate of £125 per set or video rather than different rates for the two. I hope that's OK. I've modified the post below accordingly. For the moment I've probably got enough of the selfie-style sets so am primarily looking for sets with full bondage.
Cheers, Hywel
Original Post:
Dear Models! This message is for you!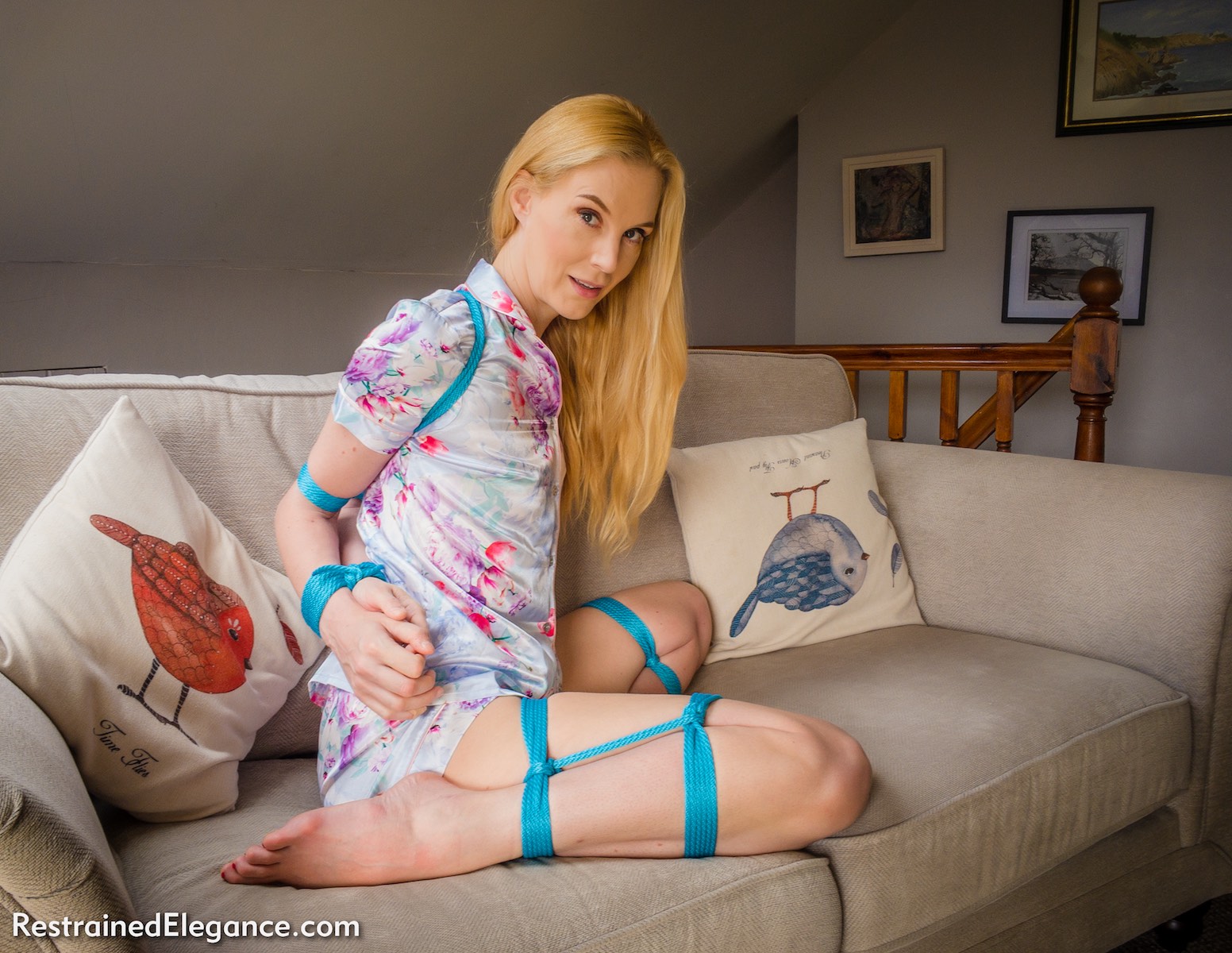 We have a year or more's content for RestrainedElegance.com, so we're doing OK: we can get by without shooting until mid-2021 if need be.
Nonetheless, it feels like a good thing to keep content coming in and so I'd love to commission some self-shot videos and photosets from you whilst we are all in lockdown if it sounds interesting and fun to you.
Ariel and I are locked down together as model and rigger/camera-operator team and a house full of bondage gear and pro cinema cameras. We know that few of you are fortunate enough to be in that situation. So we understand that what you can shoot for us will be limited by what (and who) you have around.
Self shot or "Pro"?
I'm looking to commission the following: (UPDATE 02/06/2020 – rates are the same for both)
1) Self-shot set: £125 UK pounds.
10-15 minute video clip or 75-100 still photos. I understand that this might have to be very bondage-light. See below for ideas, although I have quite a lot of these now so I am primarily looking for sets with full bondage.
2) "Pro" shot set with camera operator/rigger, full bondage and nice lighting: £125 UK pounds.
10-15 minute video clip or 75-100 still photos.
Shooting safely
You staying safe is the most important thing, especially if you are shooting on your own. Make sure your phone is to hand, turn on Siri (or whatever the Android equivalent is) so you call for help if you get stuck. It's only a fun BDSM porn clip, don't put yourself at any risk.
Solo ideas
If you are confident to self-rig a big old bondage set by all means go ahead. But for the self-shot sets it would be fine to…
Use handcuffs on wrists and ankles, with hands in front. Test the keys first!
Tie your ankles and knees with rope, then talk to camera about how much you want someone to come and tie your hands
Wrap silk scarves around ankles and wrists
Pose in as many bondage positions as you can think of while talking about how great it will be when you can get properly hogtied again
Play with and try out various different gags
Do a dom-sub video with you on your knees and saying how you will serve
A self-spanking or self-bastinado clip – don't need bondage for that! A riding crop can work wonders
Dripping hot wax on yourself from a (cool-burning) candle. Be safe and do it on a non-flammable surface like in the bath, not on polyester bed sheets, please!
JOI about how the viewer would tie you and take you and all the things they could do to you
Talk about your bondage fantasies or a lie-back-and-dream bondage daydream or reminiscing about a hot bondage experience
A taunt-and-torment clip which starts off with you being a very unpleasant domme to the camera but switches half-way through as you've been captured and now are being forced to be a sex slave to the camera
Nude-in-metal bondage gear review trying on several different items (eg a few sets of handcuffs and a couple of gags
Masturbation scene imagining being tied up or being used as a sex slave or being whipped – I'm too shy to direct this normally but it would be fun to see what you can create!
A foot fetish soles of feet tease show whilst talking about how maybe if the viewer got their hands on you they'd tie you up and do wicked things to you
If you prefer to work from a script let me know what sort of bondage items you have around to play with (including "none", if we have to we'll get really inventive). I will write a script accordingly.
If you're up for it I'd also LOVE to see what you can come up with taking the above as inspiration and knowing the RE shooting style.
Styling and Clothes
If you've shot for RE before, you'll know that the aim is very elegant stuff, as pretty as you can make it. I'm not expecting Hollywood: the ring-light is your friend. Just make it as glam as you can.
Nude is always welcome, but silk and satin or cocktail dresses or maid outfits or secretaries or fantasy princess or anything you like to support a story as long as it is glam and elegant. Stripping off part way through is great.
You must be barefoot and show off soles of feet to camera for at least some of the clip. If you start wearing stockings or shoes they need to come off in the first minute or two. No opaques or ghastly socks (that means YOU, Sophia! 🙂 )
Closeups and Different Shots
I'd like to avoid long clips all shot at the same camera angle- however compelling the content it doesn't look as interesting without something changing visually. So please change angle a few times during the video if at all possible.
Closeups are great – details of bondage, details of gags and some shots of soles of feet. A few 30 second closeups go a long way to breaking up selfie-shot stuff. You don't even have to move the camera, just come close and show off the bondage or the gag (especially if your camera can focus really close).
4K formats and Techie Stuff
Please shoot in 4K if available. If you can send me the video files straight out of camera that would be best, but if the files are too big I can take them as eg 4K resolution 10 Mbps bitrate MP4 (which is what the final output for the site will be).
I'm happy to edit and grade the clips or you can edit before sending if you prefer.
If shooting stills, send me RAW files if available, otherwise the highest resolution JPGs you can produce.
"But my camera isn't up to it!" – as long as it shoots at least 1080p HD or preferably 4K, it is. The photo at the top of this page was taken on my iPhone. I'm after your hot ideas, I know that it is not going to look like a regular RE clip.
Rights
For the payment you are granting me the exclusive rights to sell the sets/clips for RestrainedElegance.com. These clips are for my site, not for your Clips4Sale or OnlyFans, which is why I am paying for them.
It's fine to shoot OnlyFans as a behind the scenes of you shooting it, of course, especially if you'd be kind enough to let your fans know that the final video will be up on RestrainedElegance.com.
I'll send you a sale of rights agreement via DocuSign for you to sign and return with the exact wording. (I won't put it all up here – it's the same stuff as the RE model release).
Does This Sound Fun?
If this sounds fun and suggests an idea to you, I'd love to see you film it for us!
As I said we have plenty of content so only shoot if you have a cool idea and can fit it in.